Are you going to backpack or travel through Malaysia? Want tips? Then read this brief overview below.

From Kuala Lumpur we flew with Air Asia's domestic flight to Sandakan, in the Sabah area of ​​Borneo.
Sabah – Sandakan (3 nights – 3 days)
The city of Sandakan is not used to tourists yet and is not really special.
We did an excursion to Turtle Island (with an overnight stay). We had booked this excursion in advance because of the limited available places and our great wish to do this. It was great! A paradise by day and very impressive to see these mighty big animals very close and help the little turtles heading towards the sea. More information about Turtle Island Borneo can be found here.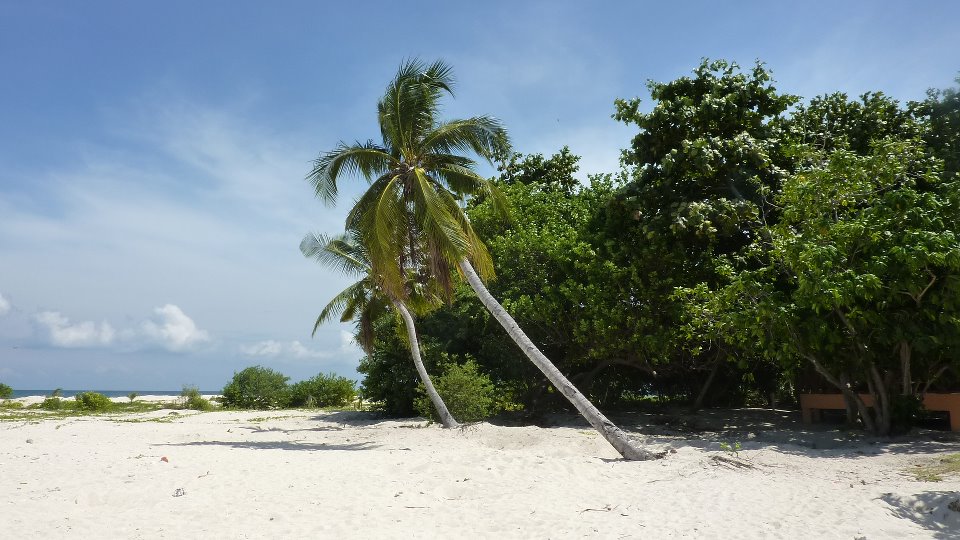 Next day we went to the Orang Utang refuge center. Great to see the Orang Utangs swing among the trees. I still wonder who's watching who. More information about Sepilok Orangutan Rehabilitation Center can be found here. When you have a longer stay in Borneo, I would recommend visiting them in the wild, but for us this was a great alternative. Both one of our highlights! What a beautiful nature there and a lot less touristic than in western Malaysia.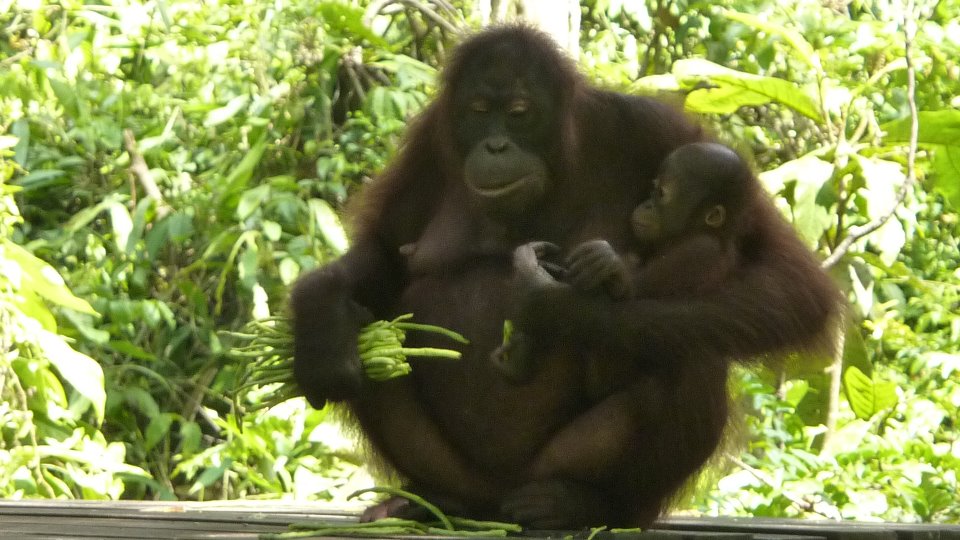 Sabah – Semporna (4 nights – 3 days)
My golden tip: Singamata Adventure and Reef Resort. A snorkeling and diving paradise. You will know them from the brochures: those resorts on poles in the middle of the sea. Great, but too expensive for backpackers! But Singamata Adventure and Reef Resort is definitely affordable for backpackers! A paradise, truly a place you will never forget! You can also get a cheap paddi there. The atmosphere is super, everyone is very friendly. The food is a standard buffet, basic but good enough for a few days.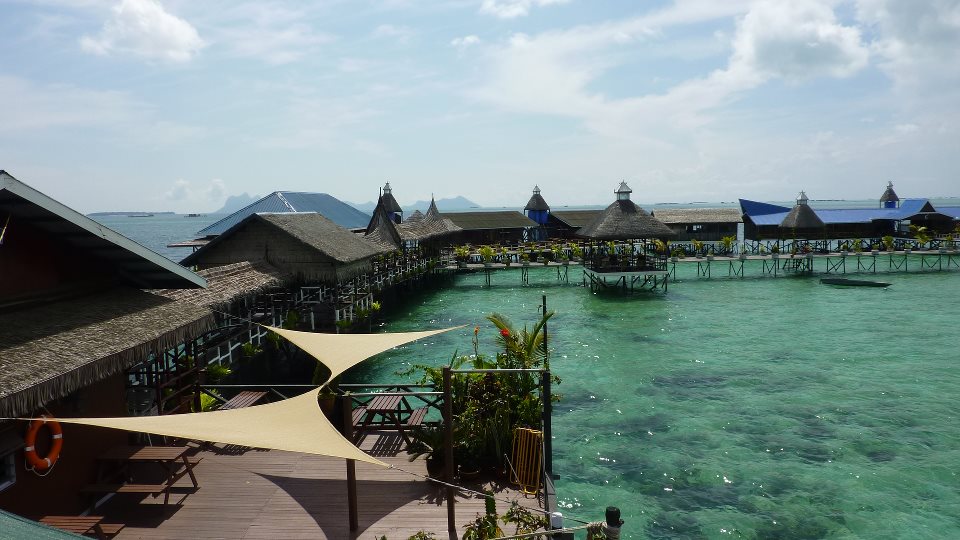 We flew back with Air Asia to Kuala Lumpur.
Kuala Lumpur (4 nights – 3 days)
On our first day we walked in Bukit Bintang and walked to the KL Tower. Nice view from it. Then we walked to the Petronas Towers. If you walk into the park at the back of the mall you will see the Trader's Hotel. There we had a drink in the sky bar (make a reservation for a window table). There's also a swimming pool where you can swim for a fee. Here you can see the city getting dark and the towers being lit beautifully. Very beautiful! Then we had a meal and walked in Bukit Bintang. There are nice hawker stalls where you can eat deliciously.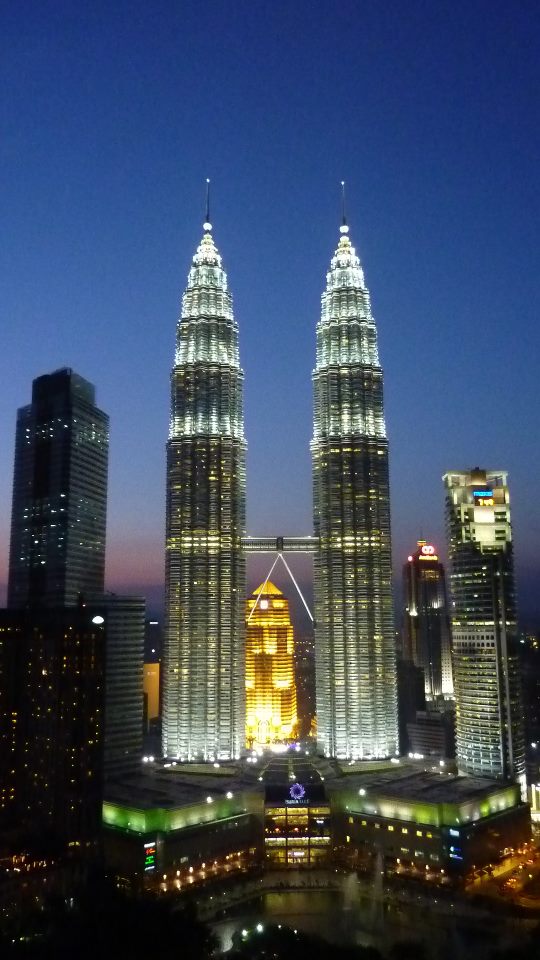 On our second day we walked to China Town (Petaling Street), then to Central Market (large indoor shopping mall with many tourist stalls. Also a large food court upstairs, where you can enjoy delicious food), Masjid Jamek (Indian-style mosque, you must cover your hair, shoulders and knees. You can borrow a free headscarf and coat) and Merdeka Square. After that we had another walk and went back by Sky Train. I can recommend a massage.. 😉
On the 3rd day we went to KL Bird Park (not recommended) and we have been shopping in Times Square. There we have also been in the Theme Park. Upside down through the mall, just because it's possible 🙂
We went by bus from Kuala Lumpur Bus Station via Batu Gaves (a Hindu temple in a cave just outside Kuala Lumpur) and the Kuala Ganda Elephant Sanctuary (yes they do a great job there, yes you can sit on the back of an elephant in the river there while being sprayed wet, but too touristic for us) to Taman Negara.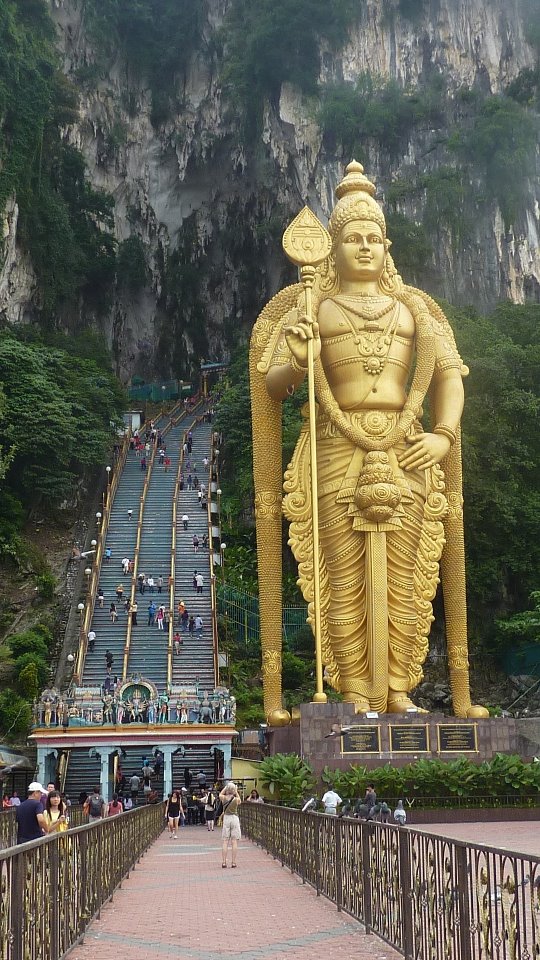 Taman Negara (2 nights – 1 day)
You can enjoy delicious food at the floating restaurants. We did the Canopy Walk and Jungle Tracking with a guide. It's fine to do this by yourself, but we found out that the guide's info added something. We had a very nice guide, we have laughed a lot. We have also walked up two hills. Nice view, very warm! It's also possible to walk other footpaths where you will encounter few other tourists. We found it to be very touristic, although nature is still beautiful. The Canopy Walk at 20 to 40 meters height through the top of the trees was really a great experience!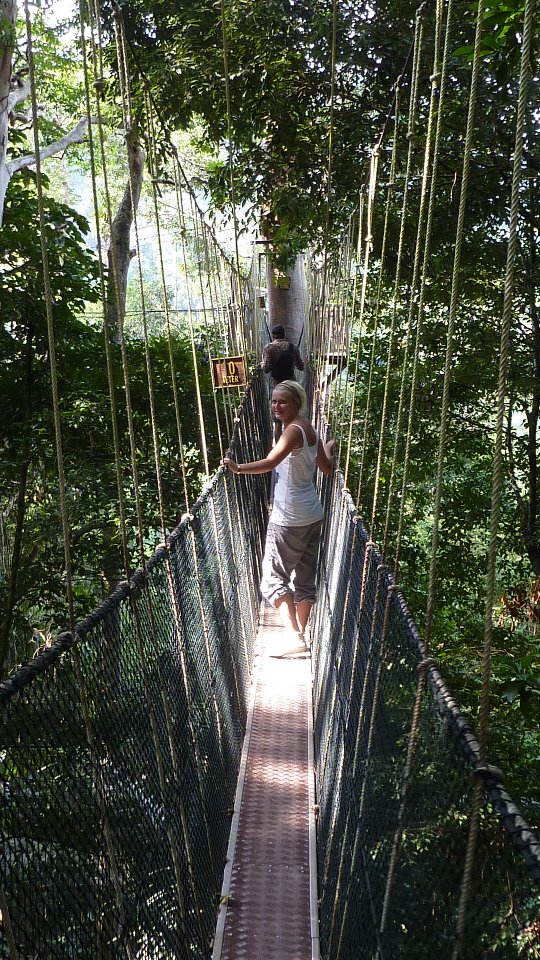 In the afternoon we had to choose between visiting the Orang Asli (local people) or Rapid Shooting on the Tahan River (getting wet in a boat). Because of the many tourists, we decided to go for refrigeration and we did the Rapid Shooting. It's not so impressive, but it's nice and cool. We had a nice swim and relaxing on a beach. If you have visited the jungle before, Taman Negara is not a must.
By bus we went on to Cameron Highlands.
Cameron Highlands (2 nights – 1.5 days)
We were in Tanah Rata. We didn't really find it a special place. We enjoyed reading a book with delicious scones and Cameron Tea in the afternoon. A day of relaxing and enjoying the cool weather.
The next day we booked an excursion that had several stops. We went to a rosary, strawberry farm (with the best strawberries milkshakes ever), butterfly garden, insect garden, market, tea plantations and a Chinese temple. We have seen a lot. We were especially impressed by the tea plantations.. What a beautiful fresh green!
By bus from Tanah Rata to Kuala Besut, caught the ferry to Perhentian Island Kecil.
Perhentian Island Kecil (6 nights – 5 days)
We slept at D'Lagoon, again a dream spot for little money! There are wooden houses with a porch at a small bay on the beach. Very calm, relaxed and comfortable. The atmosphere of a campsite.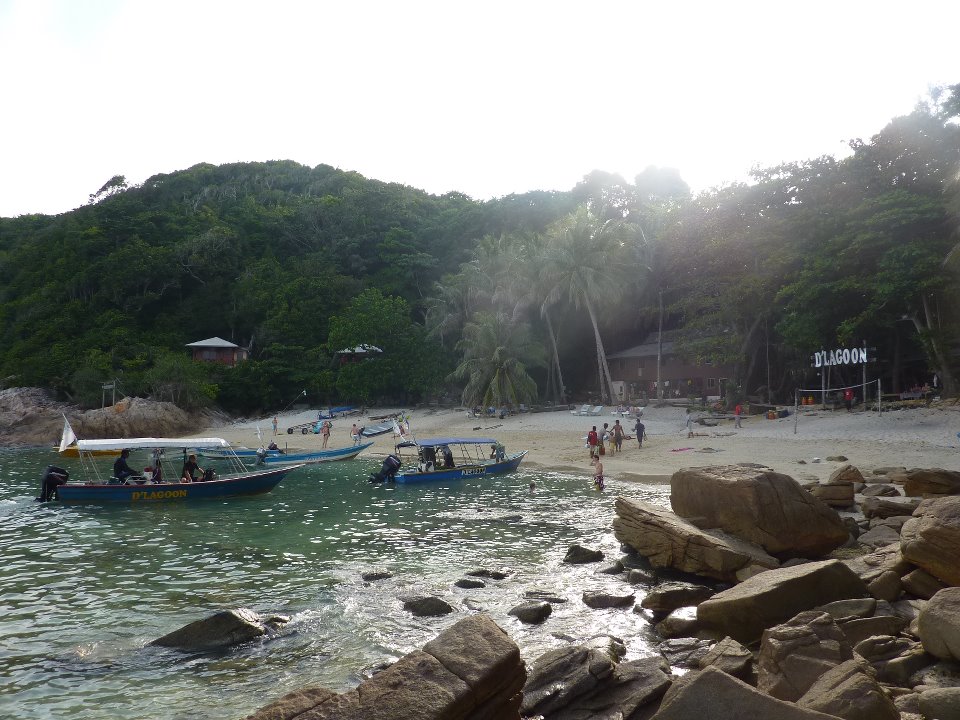 There are hammocks and sun loungers on the beach. In 5 min you can walk to the other side of the island, where you can see beautiful sunsets. We were unlucky.. have only seen them at Langkawi. The food is delicious!! Especially the banana pancake is a must! You can snorkel beautifully from this place and see sharks and turtles! Very cool! And exciting .. 😉
By ferry back to the mainland and in Kuala Besut caught the plane and flew with Air Asia to Penang. Ideal!
Penang: (1 night – 0.5 day)
We have been here only one afternoon. Have walked through the city. This is a truly Chinese city with many Chinese temples and beautiful murals/art. You can also have a great meal out on the streets.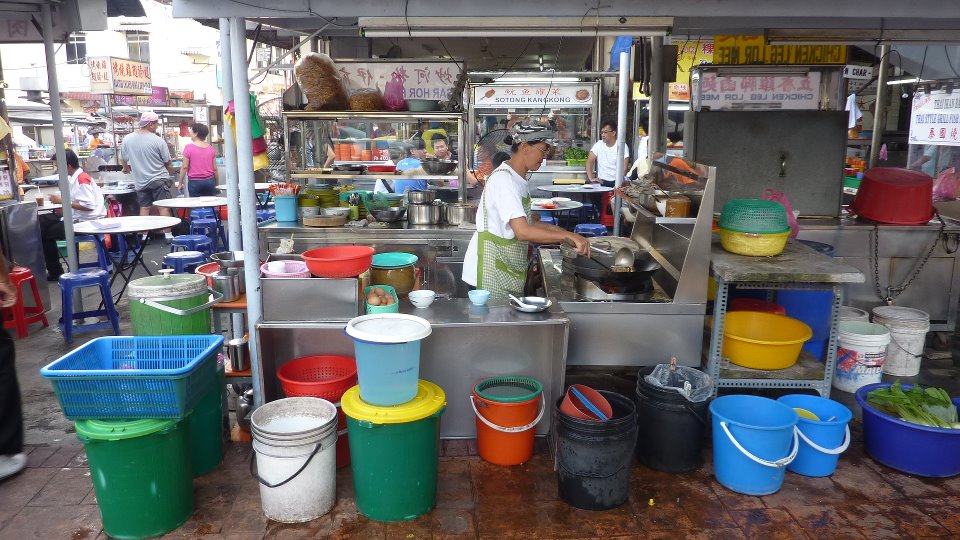 We went by ferry to Langkawi. Many sick and vomiting people. The travelling pills helped, but unfortunately it's difficult to stand the smell of everything and everyone around you. We are no softies, but this three hour boat trip was really tough. For only a little more we booked a return flight with Air Asia (35 min) from Langkawi back to Penang, then fly from Penang through to Bangkok.
Langkawi (6 nights – 6 days)
We were located here in a lovely treetophouse at the beach. We were there in our final week, before going to Bangkok for a few more days. We enjoyed the sun and the sea and really relaxed. You can have a great breakfast or lunch at the Breakfast Bar. A cozy and relaxed atmosphere there! Opposite was our hotel Malibest Resort. To sleep in a treetophouse, booking is a must!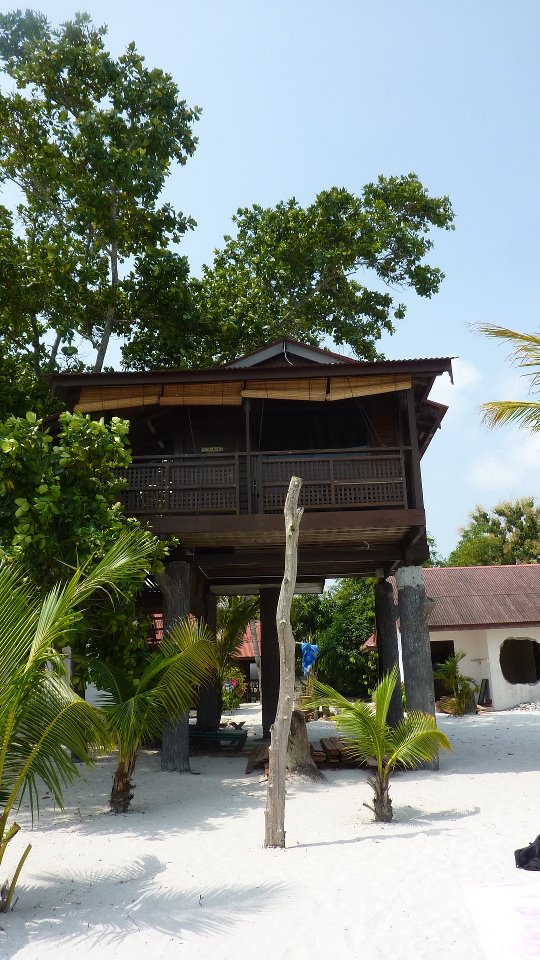 Close to the beach is a reggae beach bar, also very nice! Sometimes there's live music in the evening! One day we rented a scooter (about 10, – a day and 6, – for gasoline) and we rode through the island. We went to the Seven Wells, where there is a beautiful waterfall and there are several pools of cold (fresh) mountain water (great after all that sea water). Here you can slide from pool to pool. Be sure to bring your swimwear, we had a great time there! Maybe also because it was a cloudy day and we were about the only ones there.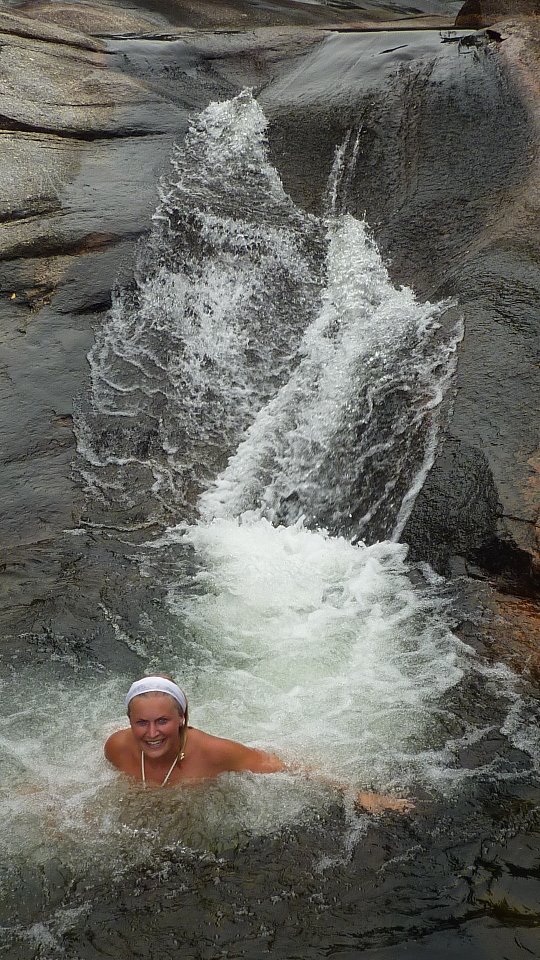 Nearby there's a cable car uphill, which seems to be worth going! We had low clouds that day so we did not go up. We also visited the rice museum another day. You can get a tour for free and we found it very interesting. It was very warm, so go in the morning or late afternoon 😉
For us this was our first Asia trip! A country where English is spoken well, public transport is well arranged and hygiene is pretty good. A country with a variety of beautiful landscapes, many different beliefs (in which Islam dominates) and kind people. Highly recommended!!

When you go, have fun! 🙂