Yes!!! My first trip to South America is a fact! I'm finally traveling to the continent I've been looking forward to for years. After all the enthusiastic stories of others, I decided that I wanted to go to Colombia. The country is about 28 times larger than the Netherlands, it's the only country in the world adjacent to the Caribbean and the Pacific, it's one of the world's most biodiverse countries and… it's a country where salsa is embedded in the culture! Curious about my experiences so far? Then start reading about my kick off in Bogota.

After a long but nice flight I arrive in Bogota at 07:45 in the morning. Together with a Dutch couple I pass customs, get some cash, drink a delicious cappuccino and share a taxi to the La Candelaria district. The ideal place for tourists. What a relaxing and cozy start!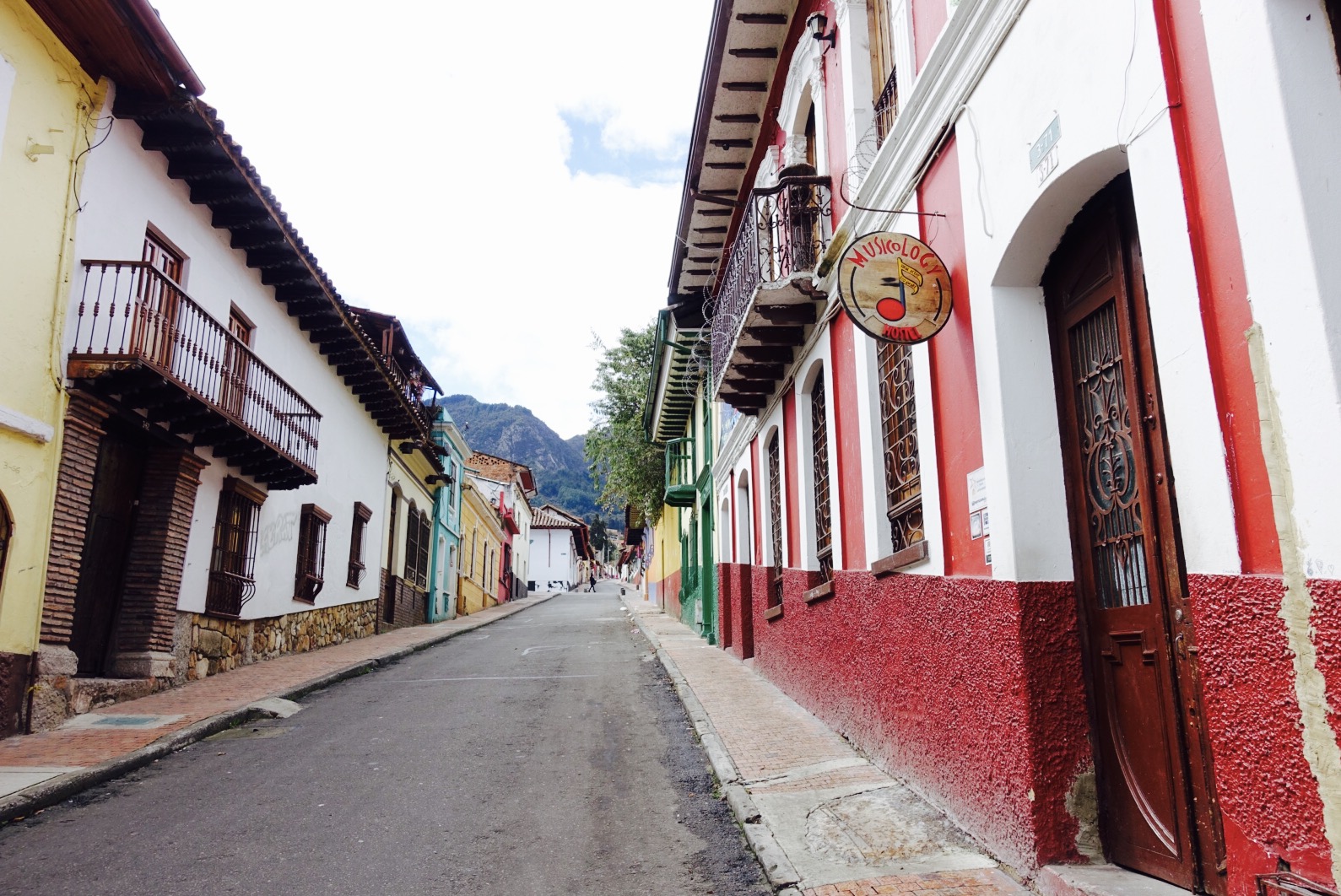 I always make sure I've a place to sleep for the first night. This time I've chosen Musicology Hostel. First of all because of the name, but also because of the good reviews. When I entered the building, the atmosphere was very relaxed. I gather some things, freshen up and notice that after a 25-hour trip I'm pretty tired. Still, I feel calm and good. Despite some hilarious "ai-moments", which I'll elaborate at the end of this blog. I'm talking to an American guy, my neighbor in the dormitory, and tell him I'm planning to go on the Graffiti Tour this afternoon. After I ask him if he wants to join, we're heading off together.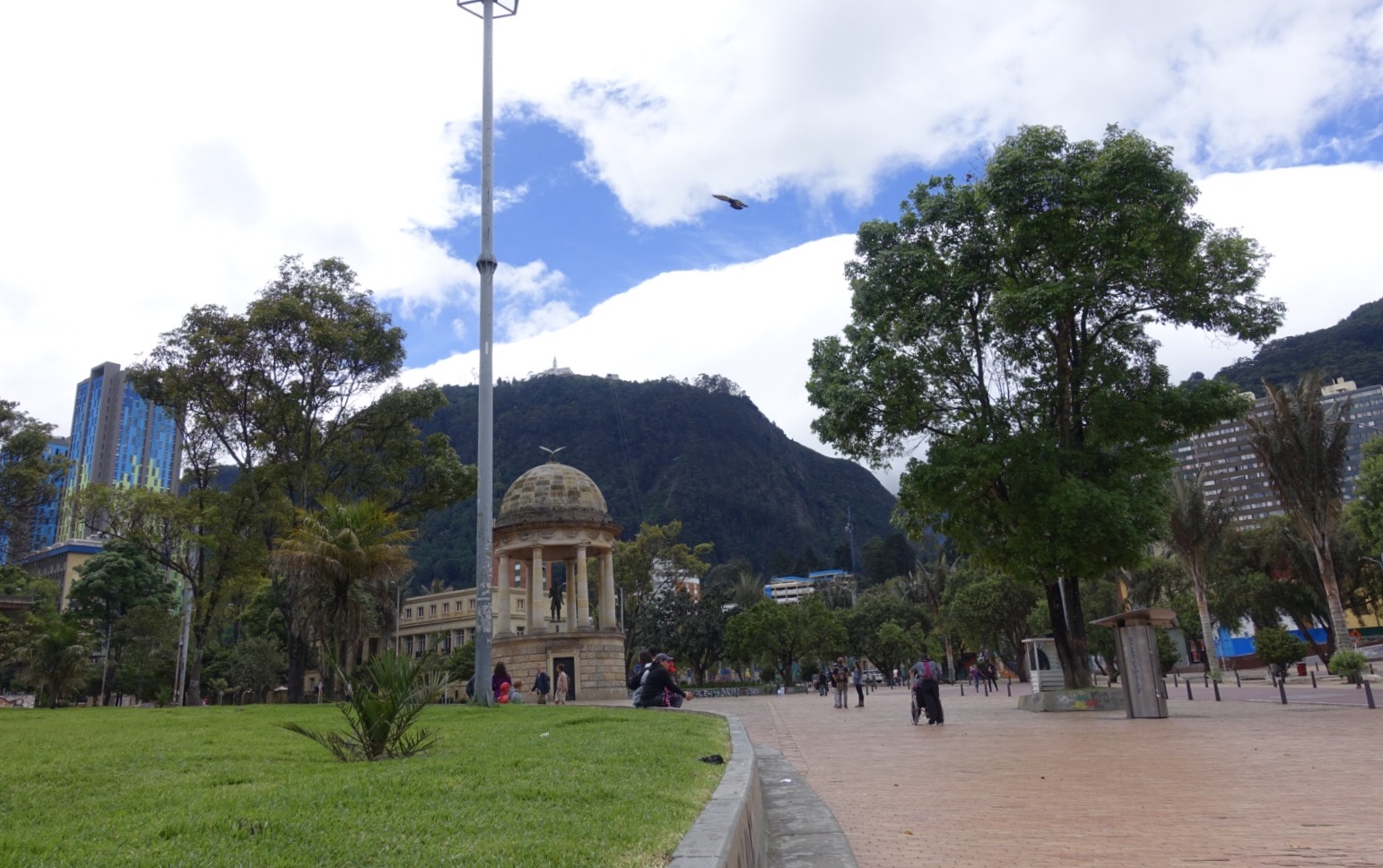 The starting point of the Bogota Graffiti Tour is Parque de Los Periodistas, a five-minute walk from Musicology Hostel. The tour itself is free, but it's common to donate 20,000 pesos (currently about 6 euros) at the end of the tour. I would definitely recomment this tour! Wow, true pieces of art and how nice to hear more about it. Tour guide Ann tells us in English about the graffiti sprayers, the stories behind the artwork, the deeper meaning, the techniques etc. Below you'll find a small impression.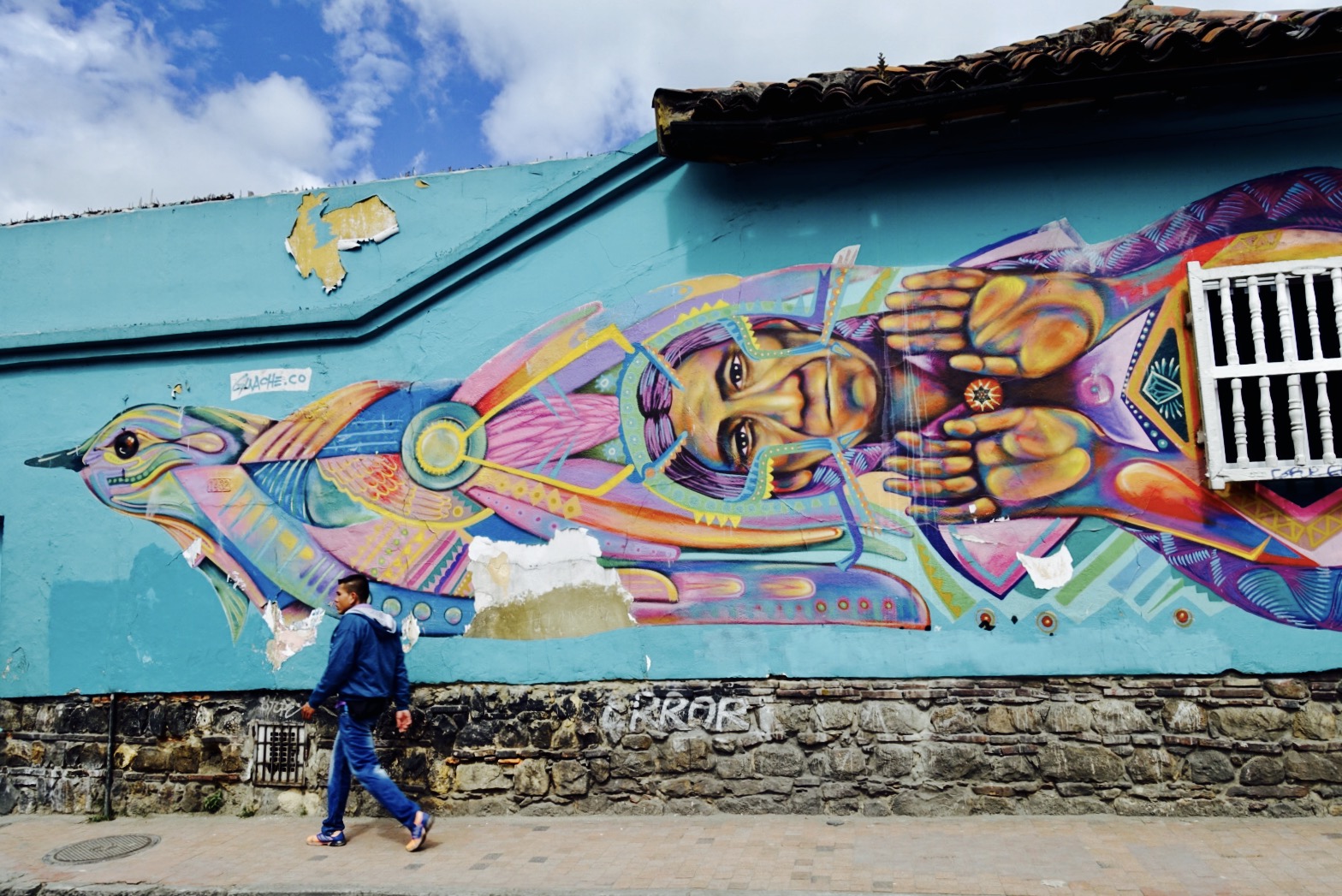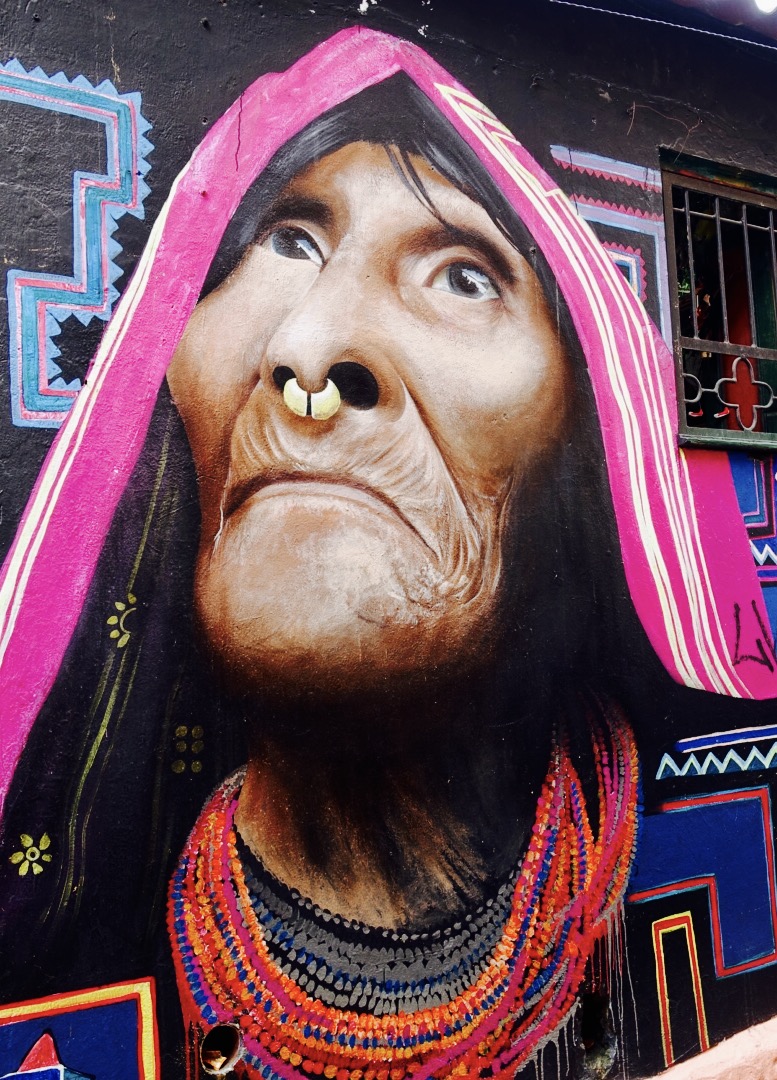 A perfect start to get a first impression of Bogota. After meeting a nice Swiss girl, the afternoon is extra fun. We're (the American, the Swiss and I) going to drink a beer somewhere.
I love the feeling of this free life, with the company of other travelers with their own stories and experiences! On our way back we stop by a grocery store and buy Granadilla's. This is a round fruit with a shiny orange peel. By shaking it you can hear if the fruit is ripe. Back at the hostel we knock on the fruit , causing the skin to crack. This way you break the fruit open and you can eat the inner green. It's delicious and the structure reminds me of passion fruit, but then sweet. After this vitamine shot I relax in one of the hostel's hammocks (with some reggae music in the background).
What strikes me most is that I feel so happy and calm. No getting used to things, enjoyment mode straight away. Perfect!
After a wonderful night, I join the Free Walking Tour the following morning. At Parque de Los Periodistas, the guide Dave is waiting with his orange umbrella. Reservations in advance are not required for both tours, you can just go there and say you want to go with them. It works the same with a tip of 20,000 pesos at the end. Dave tells us about history, politics, shows us various sights in Bogota and we also taste different specialties like hot chocolate and local beers.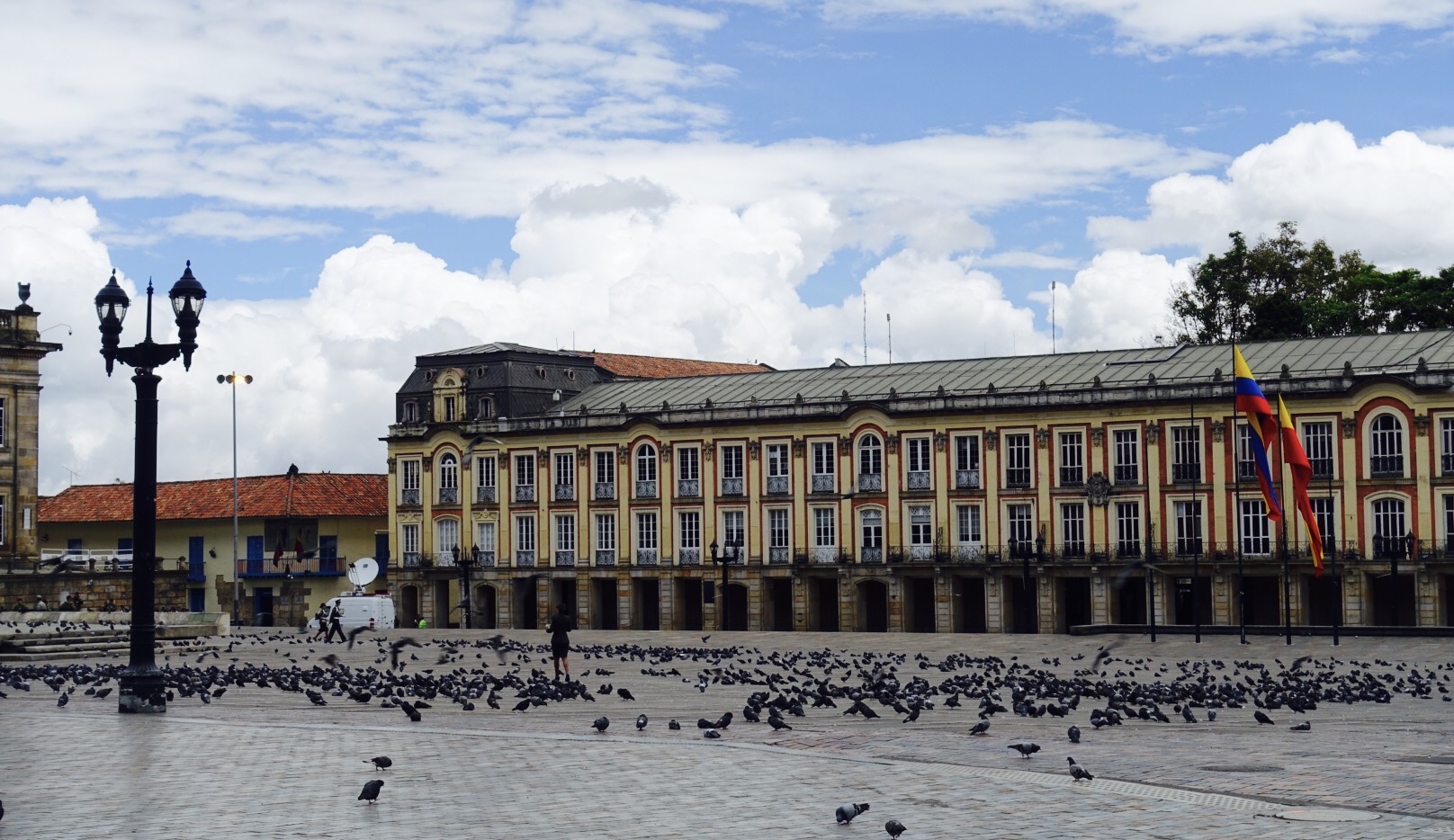 We also see and hear more about Independence Day. Today, July 20th is a national holiday. Most Colombians are free and spend the day outside. Some dressed in the national colors. There's also a parade, but I've not seen that. We learn a lot and when we finish it's 4 hours later instead of 2.5 hours.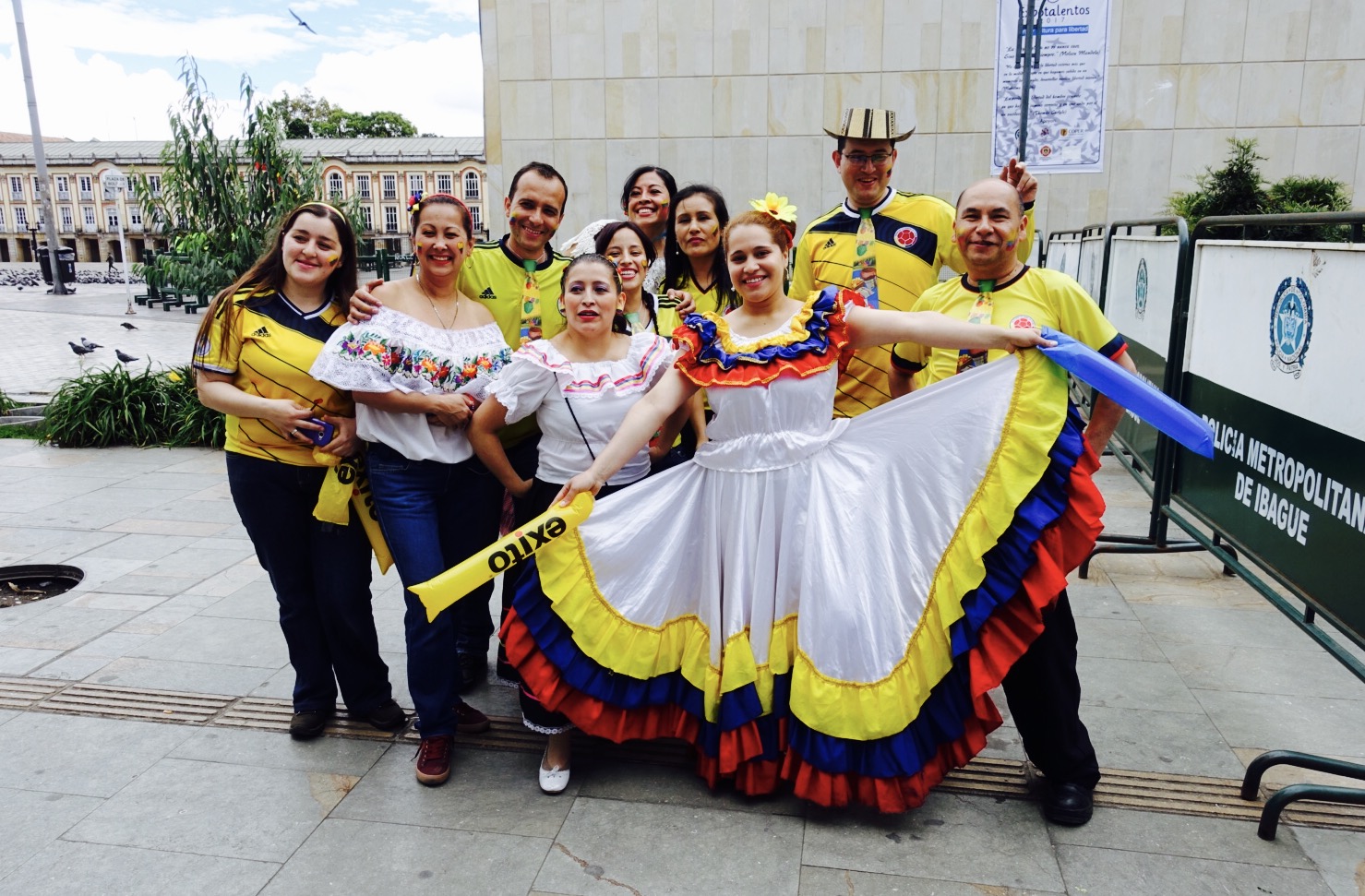 Time for lunch. With a few others I eat the traditional Ajiaco soup. A delicious stuffed potato soup, with chicken and corn and served with fresh avocado and rice. Hmmm…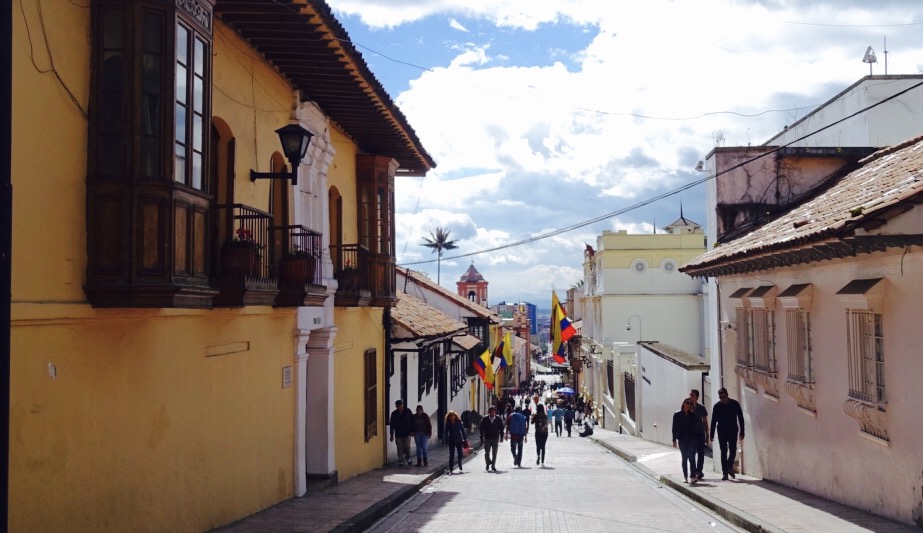 I'll save the National Museum, the Gold Museum and the view from Monseratte for the end of my trip when I'll return to Bogota. I walk back to my hostel and take the taxi to the airport to fly to Cali.
Hilarious "ai-moments"
The moment you open your toilet bag and take your brush and feel something that's not right… Cream! A tube opened and my toilet bag is covered in cream. Ai… Just clean it.
After putting my valuables in the vault and closing it with a lock, I try to think of a safe place to hide the key. Meanwhile I go to a number one and somehow the key ends up in the toilet as well. Ai… Luckily I can still see it, pfff… I smile, reach in and grab the key. Of course followed by washing it and my hands 😉
At the airport I buy a sim card for my phone (just to be able to make a phonecall to hostels, taxis, ubers ect.). With the help of a helpful translator, I figure it out and they even install everything for me. But then, what's my number? Ai… Forced to make a call to my Dutch number 😉
If you think you're well prepared, you find out you forgot to book your baggage for your domestic flight. Ai… I can pay at the desk, unfortunately there are 20 people waiting in line. All ends well.In my next blog, more about Cali.