Do you recognize it? The ultimate sense of freedom of driving on a motorbike through Asia? The first time I did this was in Pakse and surroundings.
My first trip alone. My second backpack trip through Asia. Yes, I find it exciting. I did my Uganda adventure by myself too, but traveling or doing volunteering work is a big difference. I guess I will have to get used to it in the first few days, and that I occasionally will feel lonely. How it went? Read on quickly.
That morning I was still in Bangkok, and at half past one I arrive in Pakse. From the bus station I took a taxi (with a few other tourists) to the Nuang Noi Guesthouse. After a refreshing shower I'm having a lunch on the terrace on the corner of the main street in Pakse, together with the girls with whom I share my room. The main street is still a pretty quiet street. After this we are heading for the golden Buddha.
The big golden Buddha.
After crossing the bridge in a minivan, we are facing a long staircase towards the big golden Buddha. Okay, there we go! The steps are sometimes high and every now and then we stop to enjoy the view, huffing and puffing. Upstairs we take a seat under a nice shelter and while cooling down it starts to rain. We decide to continue, though. After a climb and a staircase with wooden boards we arrive at the temple with a lot of small golden Buddha statues next to it. We walk inside barefoot with covered knees and shoulders. The big golden Buddha overlooks the Mekong river. A beautiful view!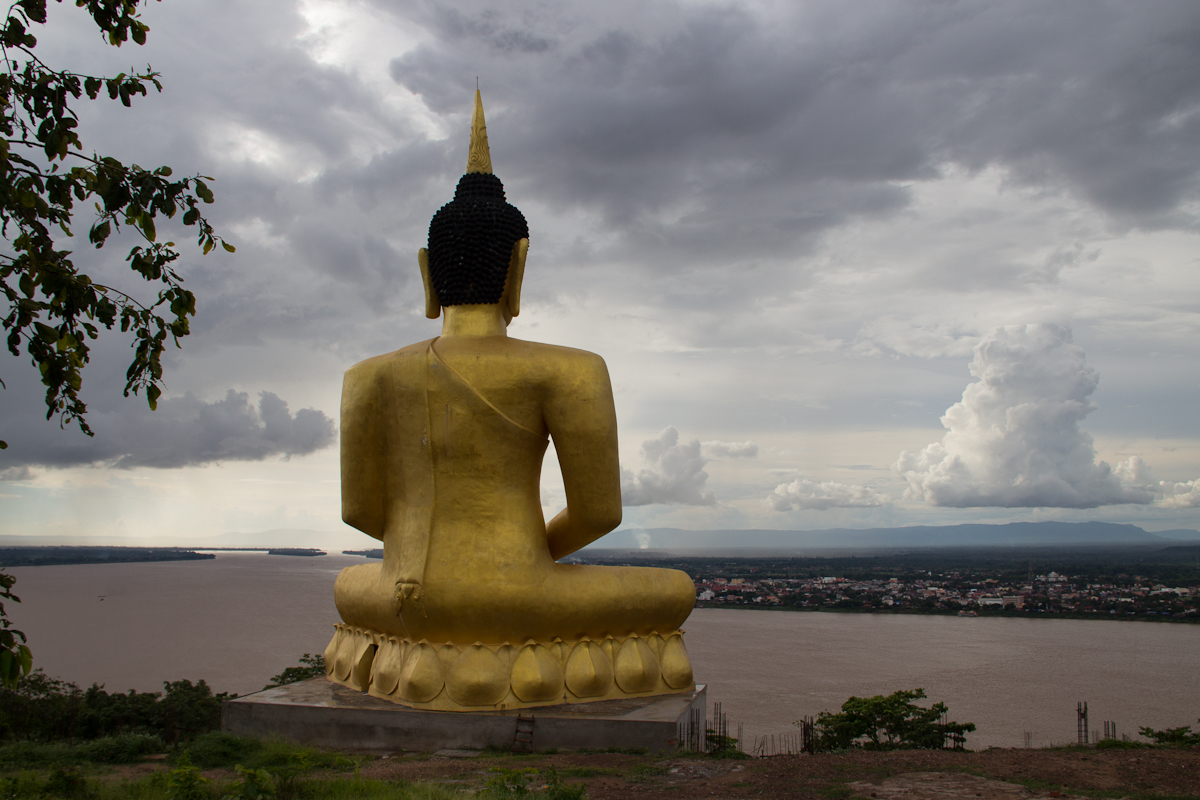 When it gets dry, we start on the way back, which is a bit slippery now. When we're down we decide to walk back and via the big bridge over the Mekong we walk back to Pakse. The sun is now breaking through the clouds, producing a beautiful view! At the floating restaurants at the Mekong we eat and drink something. After that we walk back to the guesthouse.
Next morning at breakfast I meet the Englishman who was on the bus yesterday. We decide to both rent a motorbike (4-speed scooters with a brake, only to be operated with your feet) and to have a day trip to the Bolaven plateau (1000m altitude).
Motorbike.
It's a rainy day the next morning, but when it gets dry, we decide to go. At half past 10 we follow some instructions and step each on a motorbike. I find it quite exciting with all that gearing and braking with your feet. And you also have to be careful with all the hot metal parts there. It's not quiet in Pakse (but also not crowded), but I'm happy with most of the traffic lights jumping to green, so that I can continue driving and focus on all the traffic: mopeds, tuktuks, buses, pedestrians and cars. First filling up the tank! This is done by someone and for 3 euros the tank is full.
The Bolaven plateau (altitude 1000m).
We have to get used to it, but we manage! However, we first go in the wrong direction and lose each other for a while. But eventually we're on the right track and I get used to the motorbike. I'll be fine today! I'm enjoying myself and driving with a big smile all day. The further we get from Pakse, the quieter it gets. We drive past villages, stalls, plantations, waving children, cows, goats and dogs and it is very green around us with mountains in the distance! Woohoooo.. Wow, so beautiful!! This is truly the ultimate sense of freedom and happiness!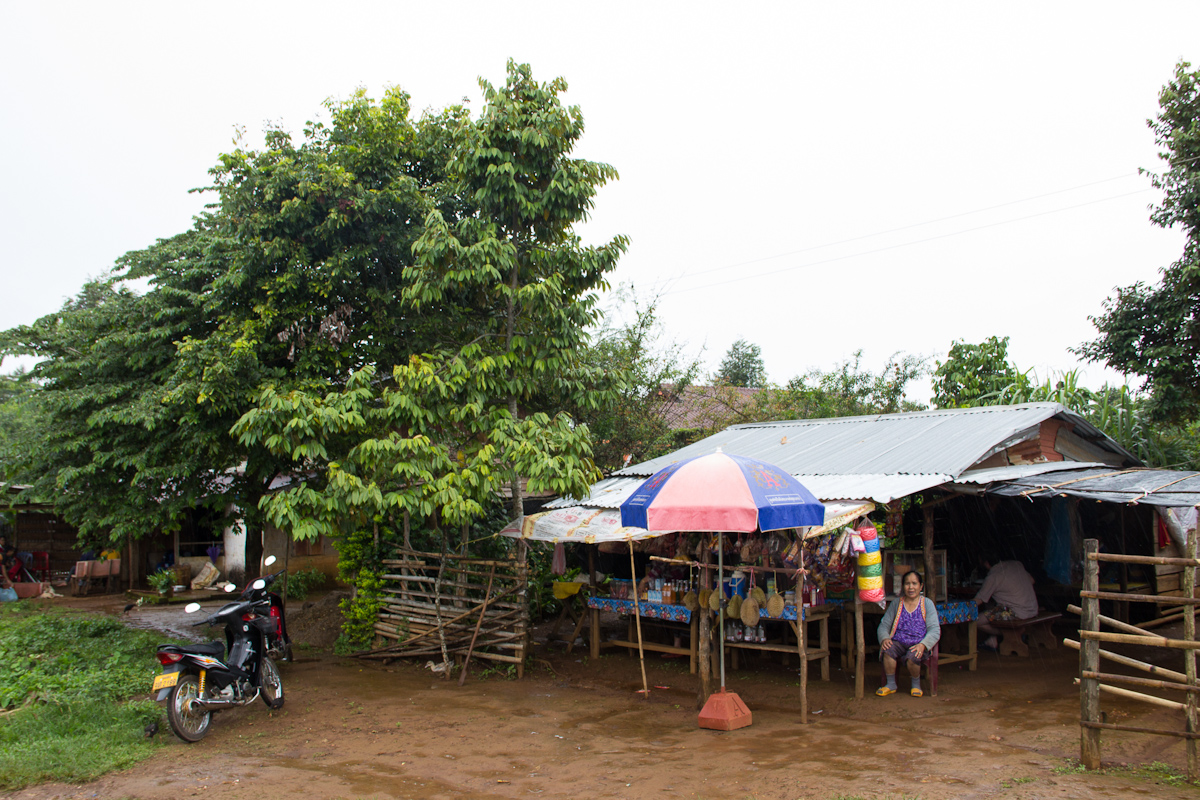 The roads are very good (asphalt) with few holes and pits. As a result, we sometimes make it to 70 km per hour. Sometimes I'm overtaken and sometimes I'm overtaking others. It's all very relaxed. On our way, we hide for a fierce shower and occasionally there are some raindrops, but that creates a coolness.
After about 40 km outside Pakse we arrive at the junction to a waterfall. We drive on an unpaved narrow road and soon notice that this is very different. Many pits and (deep) puddles and it's very slippery due to the rain. Every now and then I feel the back of the motorcycle slip away, but I quite manage to avoid all the pits and puddles. I enjoy it, it looks like a skill course.
Waterfalls.
After about fifteen minutes we reach the waterfalls where we park and have another slippery path to walk down. At the beginning of the path is a sign with 'Good Luck' 🙂 We meet only 1 other tourist on our way. The beauty of this piece of Laos is that there are no neat roads yet. It is purely natural. The waterfall is beautiful and especially the nature and tranquility make it a beautiful picture. There is also a raft on a rope where you can pull yourself to the waterfall. My motorbike companion does this and it looks great to get so close!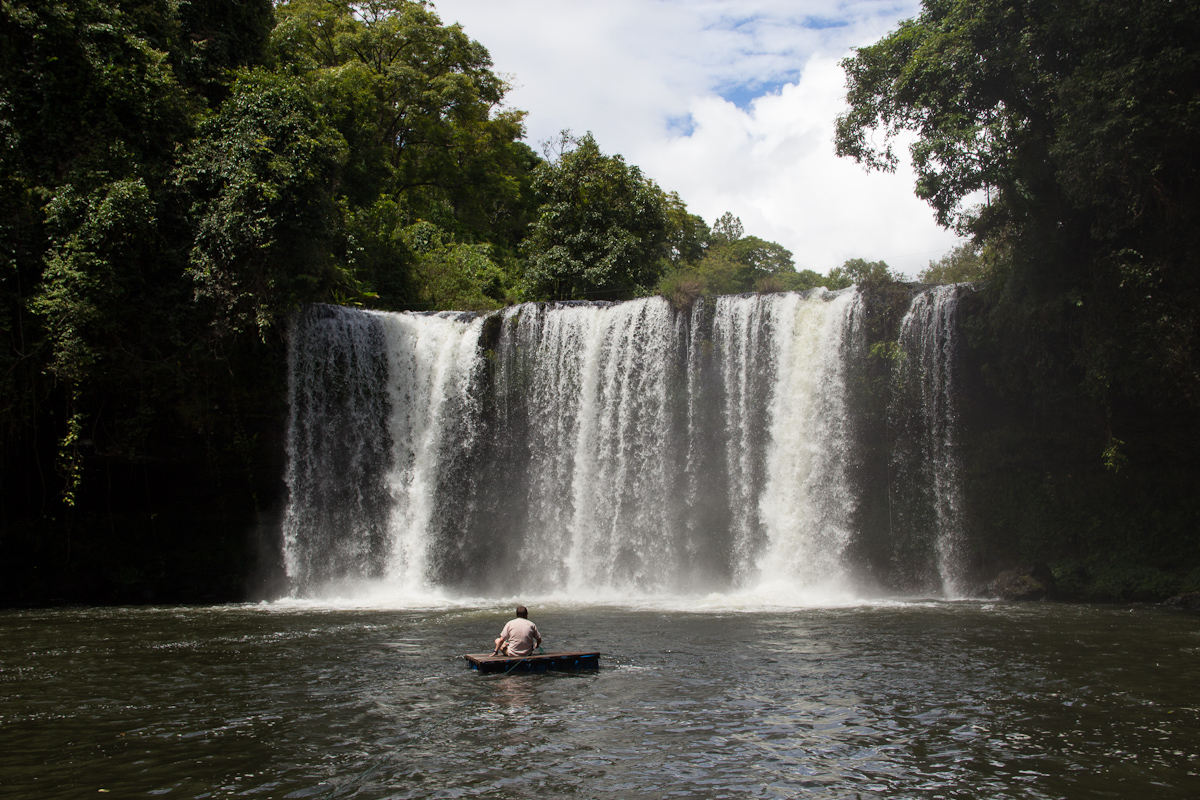 After that, the sky is getting dark and we decide to return to Pakse directly, not visiting the other waterfall. We are driving towards an almost black sky, but luckily it's blown the other direction. After an hour we are back in the street of our guesthouse. We decide to eat at one of the floating restaurants and it feels good to have confidence driving now. I eat a delicious fried mixed vegetable with gambas. The food is so good here! At 5 p.m. we hand in the keys of our motorbikes.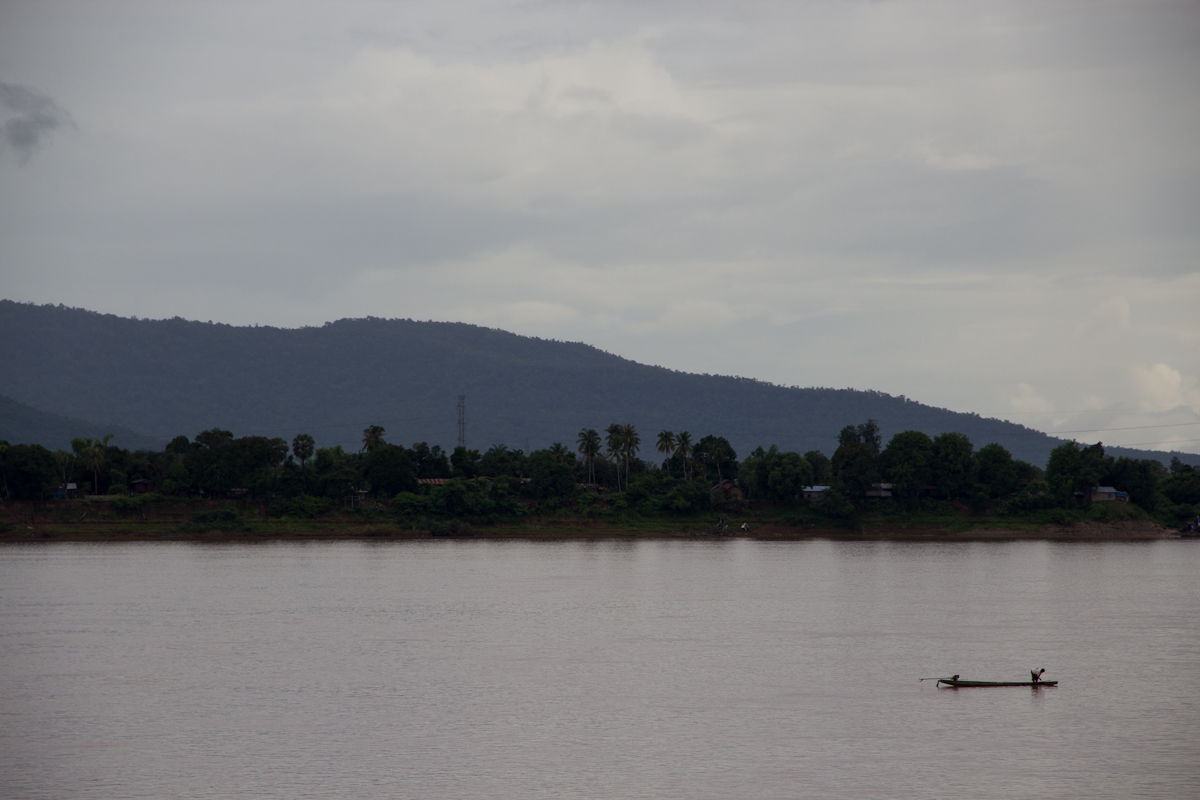 After a look in the mirror I see that my face is covered with the color of the street (African red) and my neck has been burnt. With a souvenir of my backpack in it 😉
I take a shower and rinse all the sand and mud off. Afterwards I enjoy myself with my laptop, phone and camera on the couch. Music on, all right! I enjoy the tranquility and notice that I better enjoyed travelling alone today. I find it a pleasure to be free to decide what to do! I´m looking for cosiness when I feel like it, socialize when I feel like it and look for quietness when I need it. Being all by myself can be great too! Nice!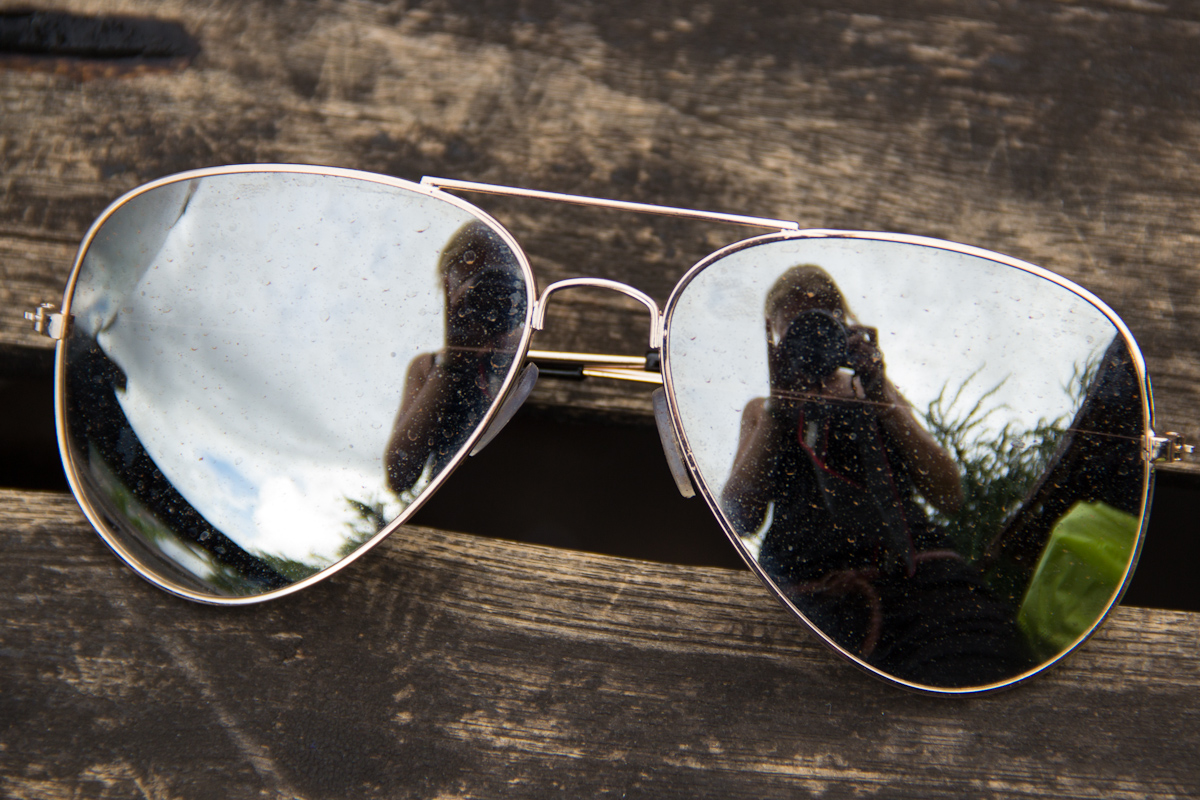 I decide to go to the Wat Pu temple (Unesco) tomorrow in Champansak. It's an hour in the other direction and I´m looking forward to it now!
Next morning my stomach was not okay and everything came out like water. I had a small breakfast. French bread (remainder of the French here in Laos) with omelet and fresh mango and tea. It was raining.. When it got dry and I was about to leave, a Dutch student from Amsterdam came to me. Where I was going. I told him and asked if he wanted to join me.
On my way to Champansak.
So 10 minutes later I told him how the motorcycle worked and we went on our way. First refuel, shelter and then decided to continue despite the rain. After driving in the rain for an hour, having a drink and taking photos, we arrived at the Wat Phou temples near Champansak.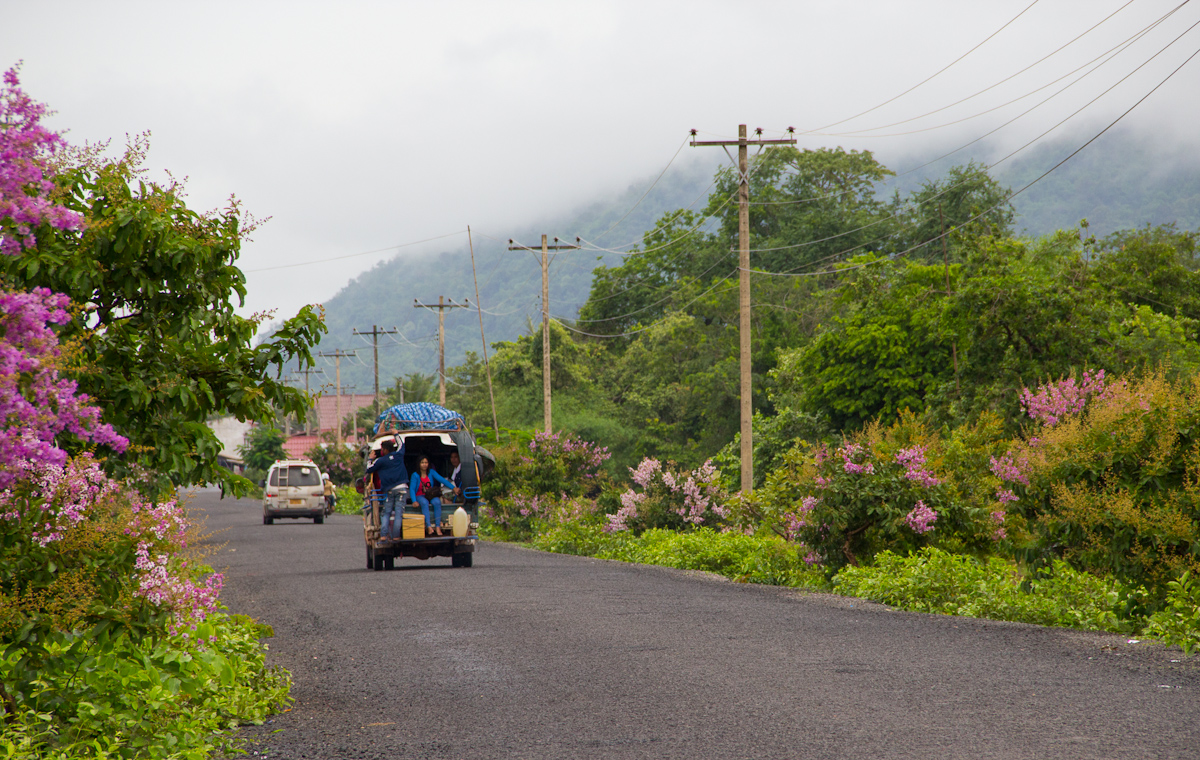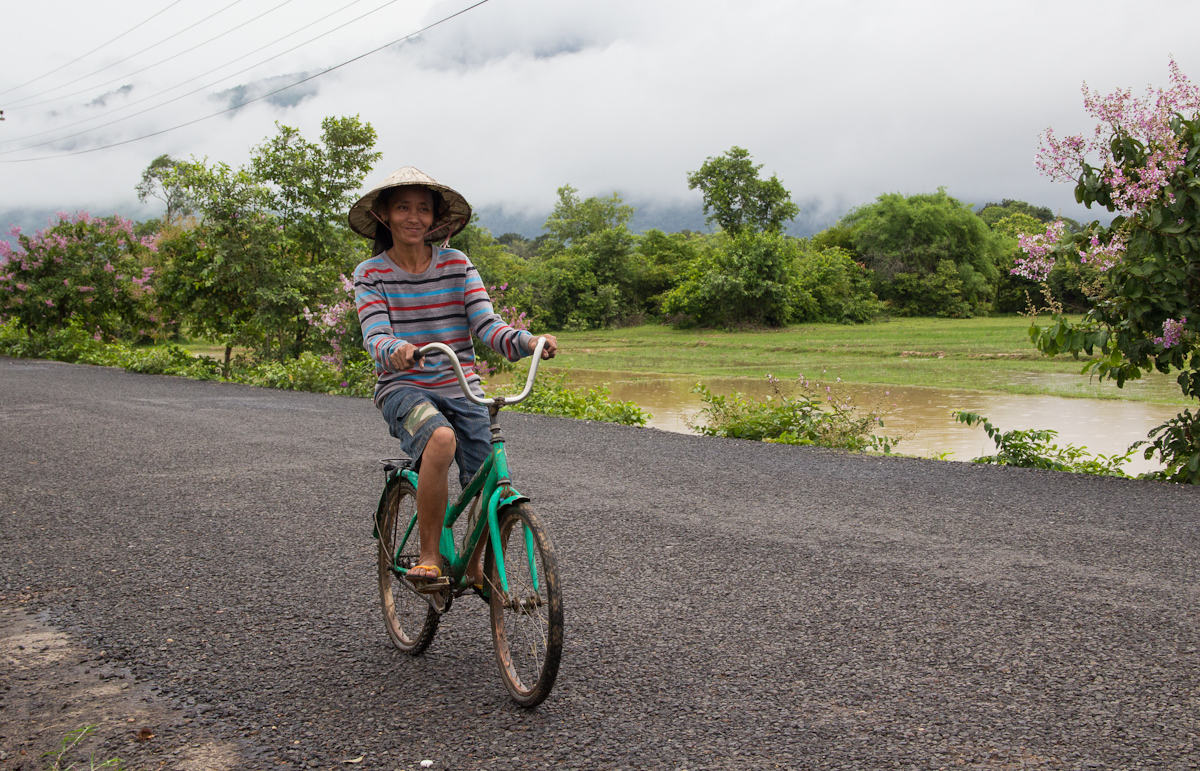 Wat Phou tempels.
The Wat Phou tempels near Champansak. They are also on the Unesco heritage list. It was beautiful, but also gloomy. The stones are very gray and in the rainy weather it was extra gray. It was very quiet and this caused a mystical atmosphere. It was nice that my companion liked to photograph (he even studied photography), so we enjoyed ourselves with our cameras.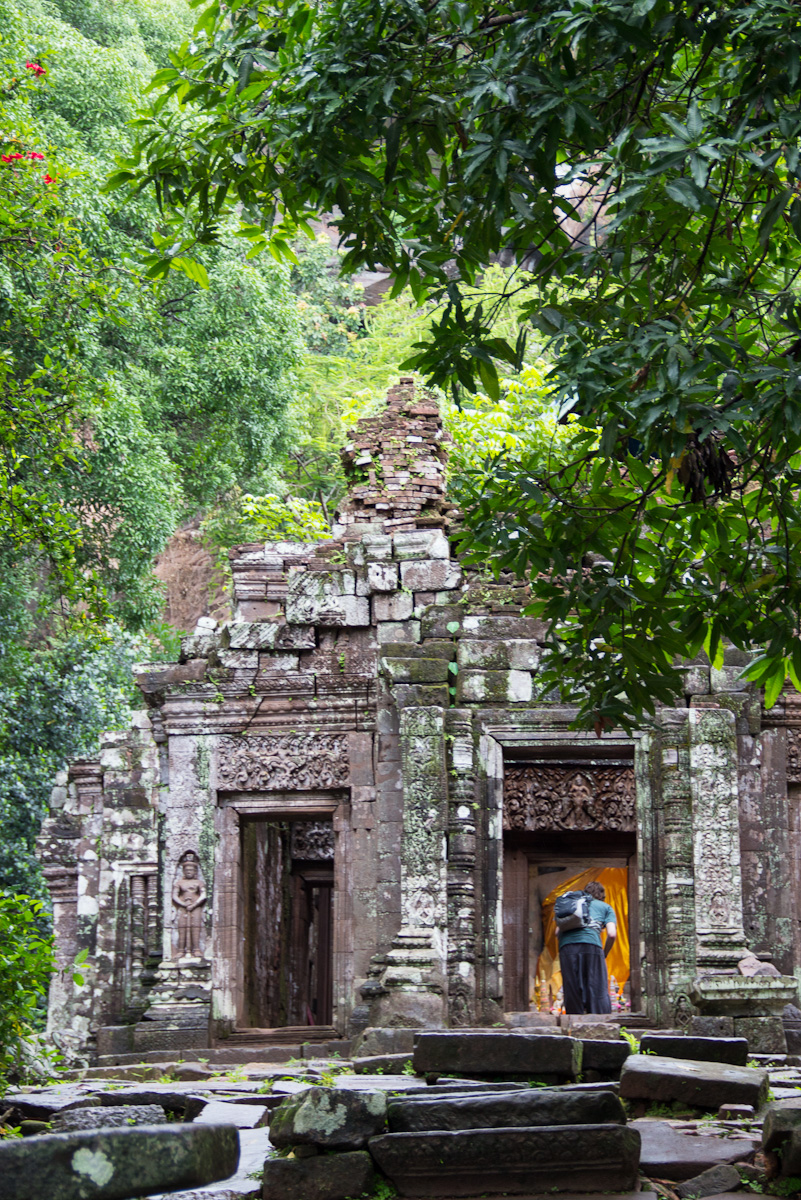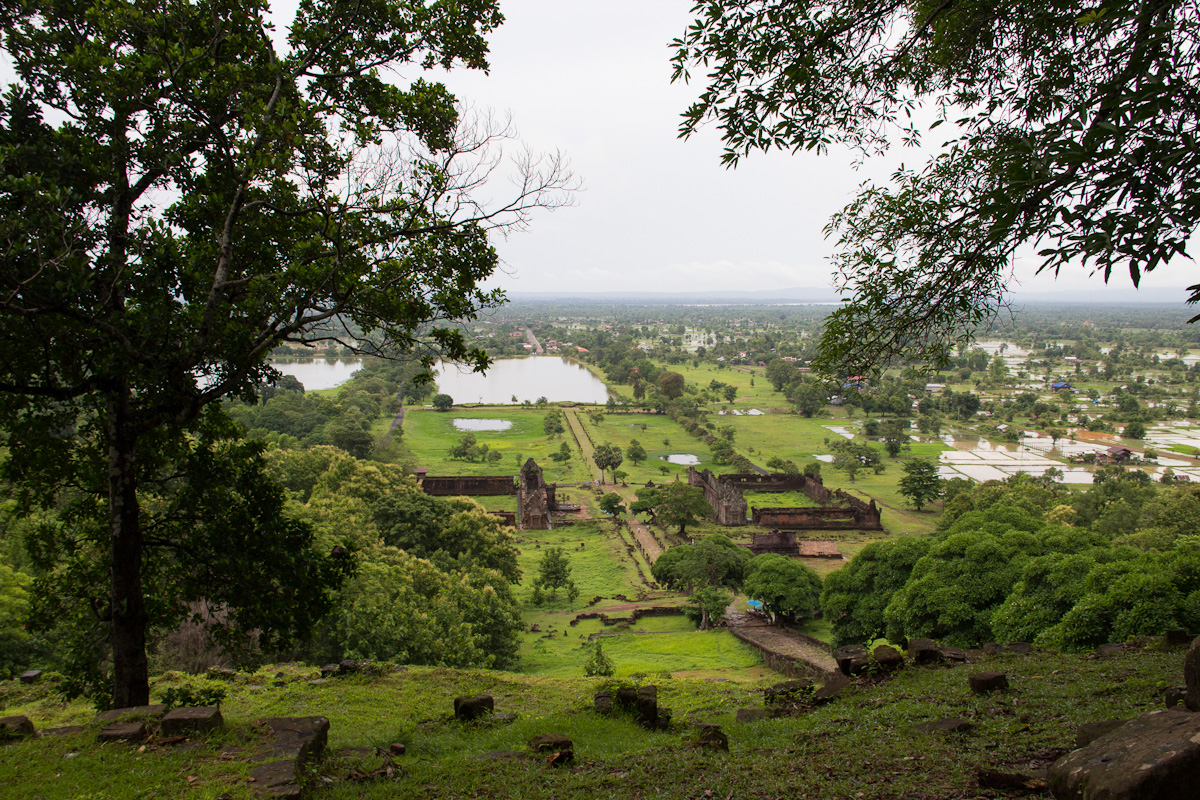 After that the rain stopped and we drove back. This time at 75 km/h. What I feel then? The healthy combination of adrenaline and fear haha. Sometimes you just have to keep attention and not think too much 😉
Local market.
Back in Pakse, I wanted to go to the local market. I did not regret it. It was beautiful and full of salesmen, umbrellas and the most diverse products. Meat, fish, drumsticks, vegetables, fruit.. Beautiful and.. a photographer´s pleasure!! Really a great moment.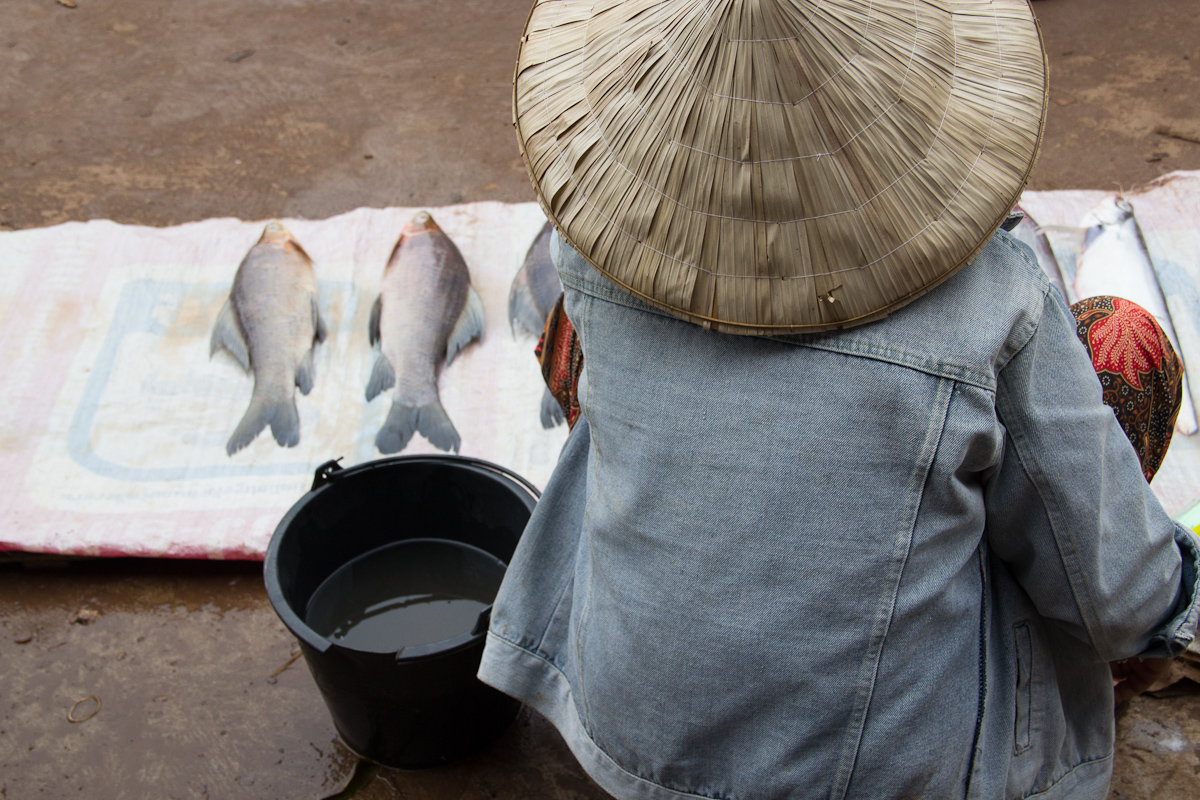 Then back to the guesthouse and my roomies were there too. We had a cozy chat and then had dinner. After, my belly rumbled a bit, I packed my backpack and again took a shower. Ready to discover a new piece of Laos tomorrow!
Heading to the 4000 islands, about which you will read more next week.