In Siem Reap I visited the huge and impressive temple complex of Angkor Wat (UNESCO) and a kindergarten. I also followed a cooking class.
I slept in a dorm in the Siem Reap Hostel. I shared a room with eight solo travelling girls with different nationalities. Very cosy. How lucky again! I first went to Siem Reap for lunch and went to the market. The smell of all the meat there I think I will never get used to. Really a bad smell. A peaceful discovery of the touristic Siem Reap. But I'm also right back in the ordinary world after a few days of rest at the beach. A good build up to Bangkok and home..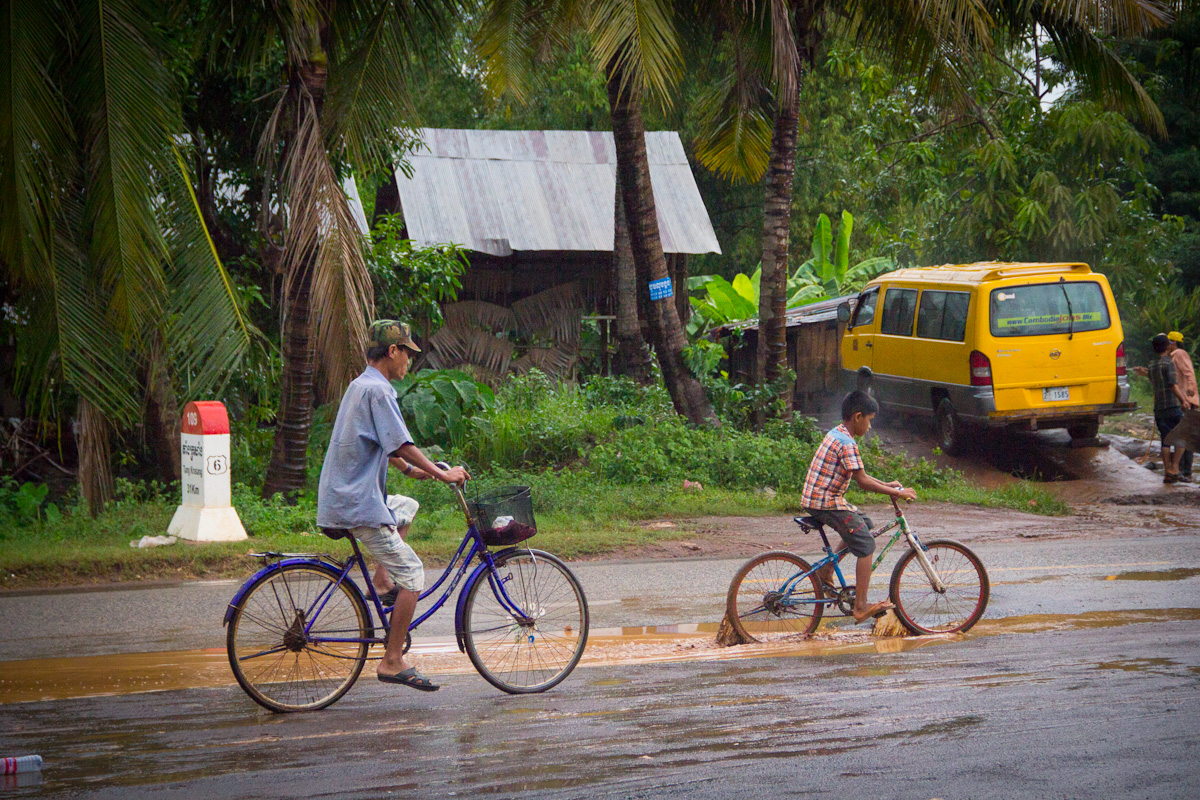 Siem Reap is, of course, most famous for Angkor Wat. The whole Angkor area is about 300 square kilometers, the most famous temples are near Siem Reap. Thanks to its size, the area is more than just an ancient temple complex. The jungle and rice fields can be seen everywhere between the temples. There are also big differences between the temples present. This is because Angkor was built during a period of about 600 years. The many kings who had their influence and the developments in technology caused great differences in the building styles. The first temples were built in 802 and only hundreds of years later the last stones were laid.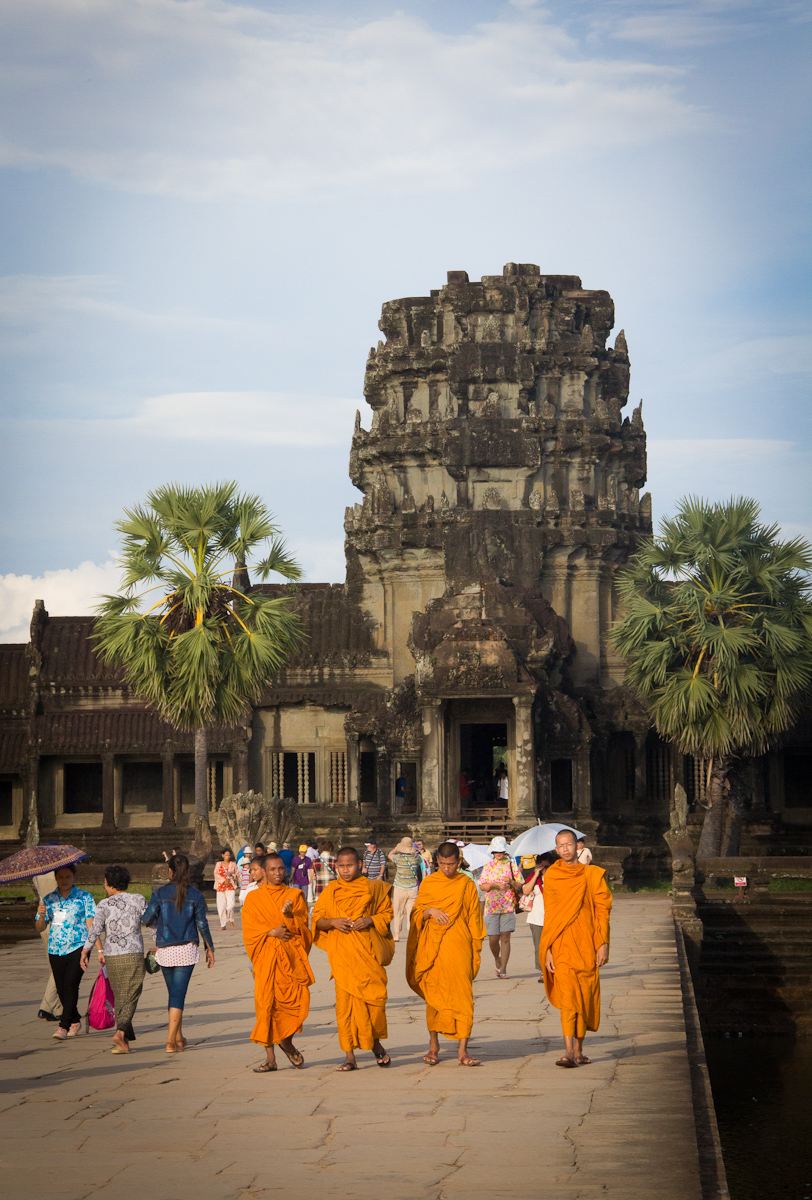 All this took place at the important city of Angkor, which for centuries was the capital of the Khmer Empire. In the 15th century the Khmer left the city and it fell in oblivion, including all temples. Four centuries later, the French rediscovered the temples. In the jungles, heavily affected by vegetation, they found the gigantic complex. Since that time, there's a restoration of the temples going on, which is still going on today.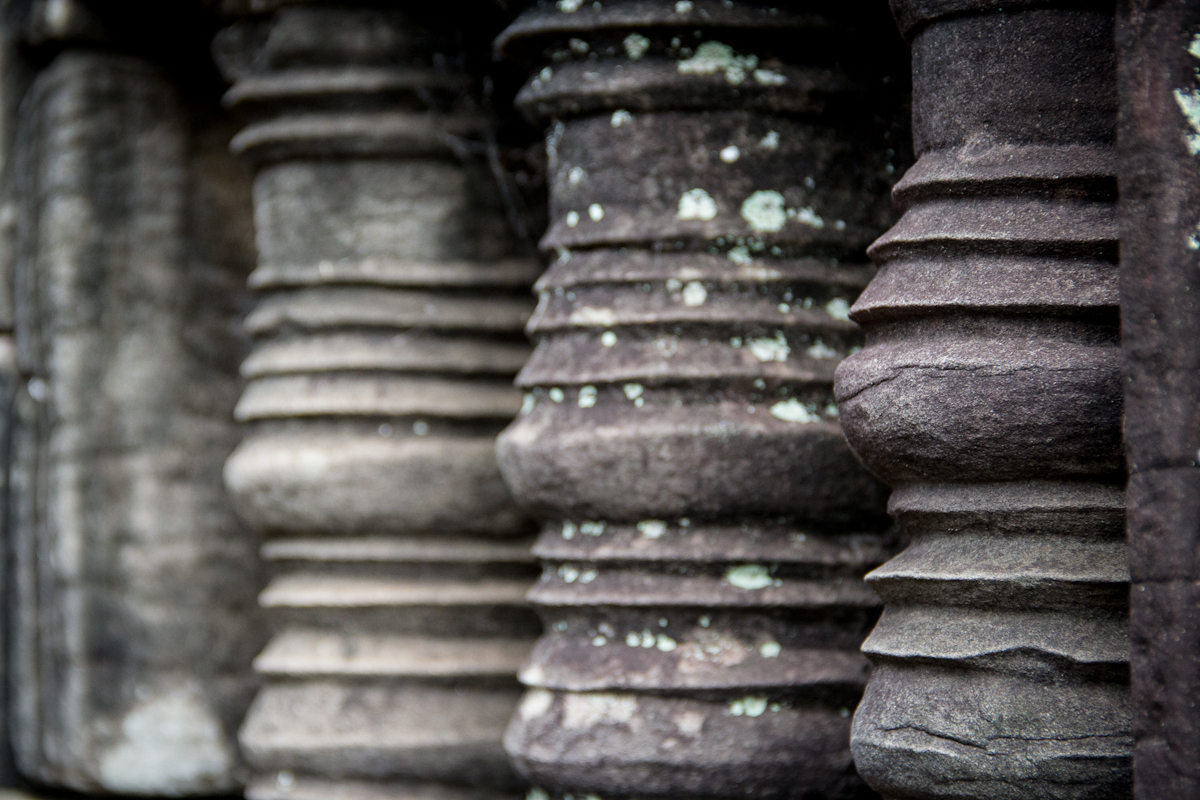 When you buy a day ticket for Angkor Wat, you can visit the park also the day before from 17:00 onwards to see the sunset. Because it was sunny I decided to do this (together with a roommate)! We first viewed the Angkor Wat temple under beautiful soft light circumstances and then went upstairs for a beautiful view with a beautiful coloured sky! We were with six people in total (because we had to pay 5 dollars because it was actually closed for cleaning) Ideal and totally worth it.
What an impressive complex!! I just got goose pimps, which I had certainly not expected.
The next morning at 4.00 a.m. we got up with our hired tuktuk driver to see the sunrise, but as expected, there was no sunshine and so we and hundreds of tourists only saw it getting light, which was quite special too.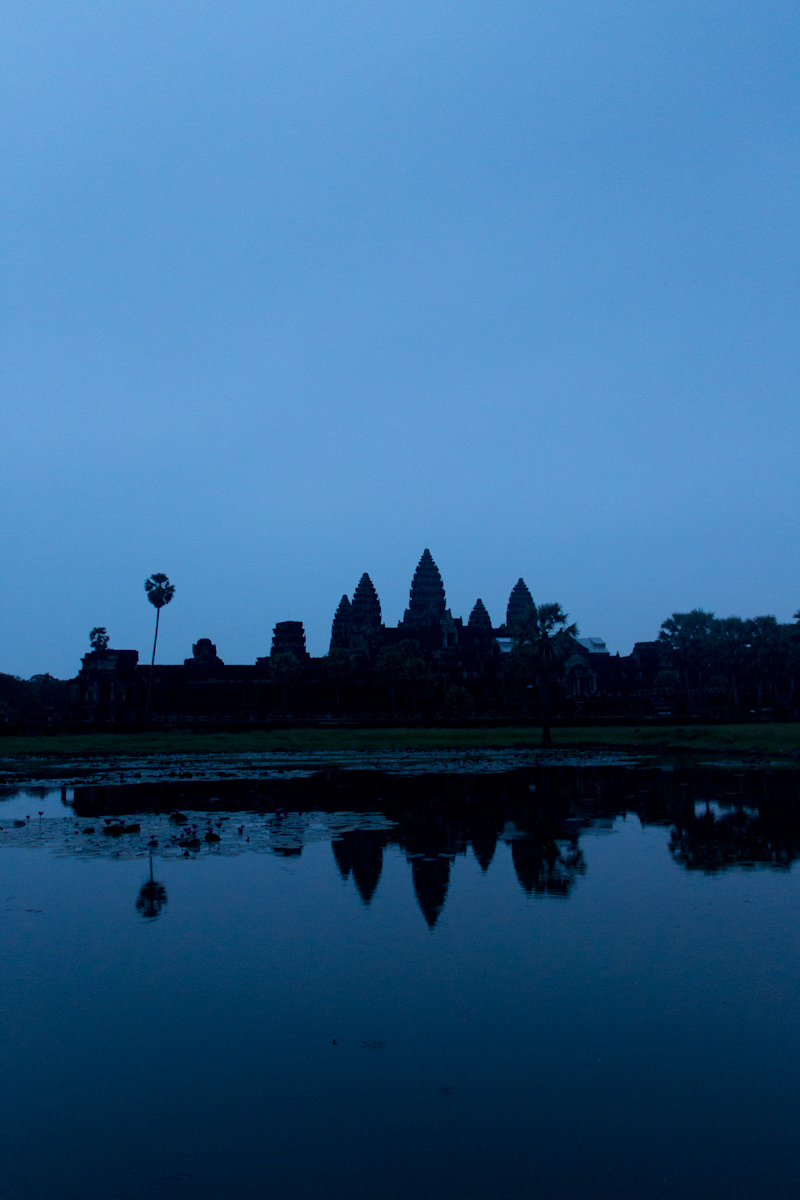 Because we had already seen Angkor Wat, we went on to the Angkor Thom right hereafter.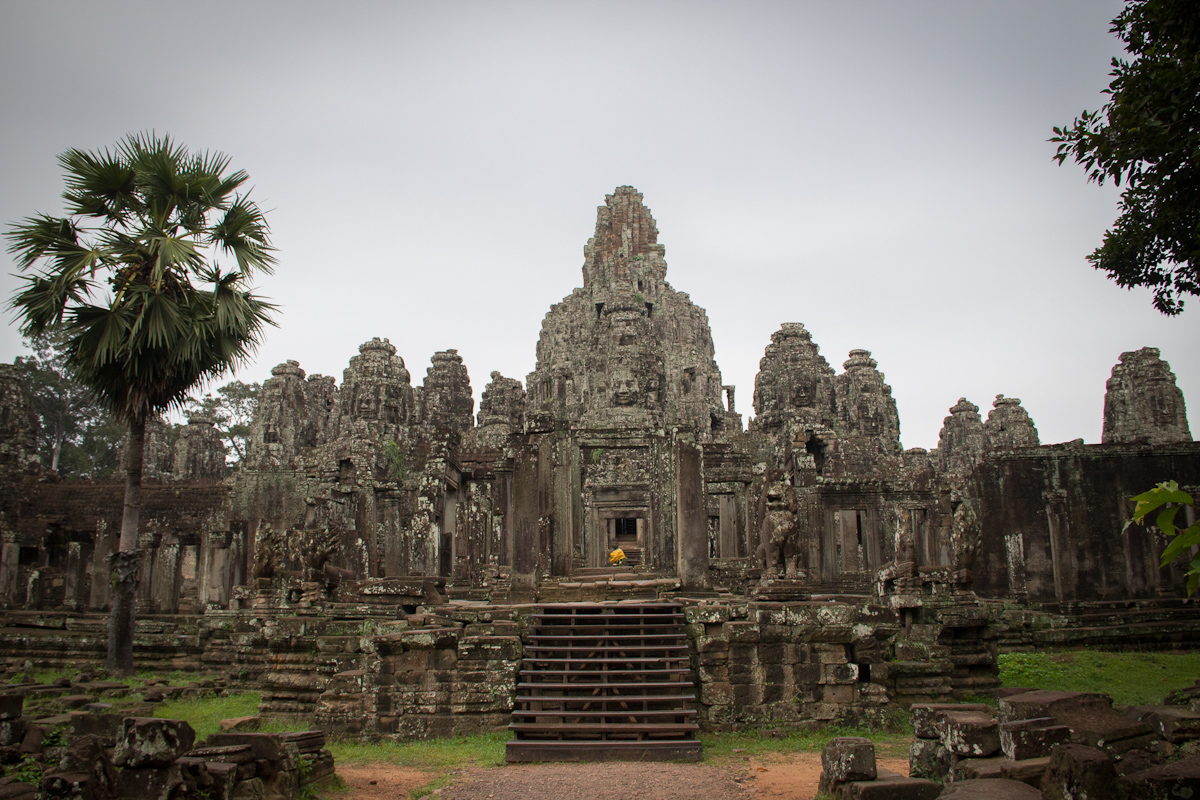 There are three temples of which the Bayon temple stood out for me! 54 towers, all with four faces.. Gorgeous!!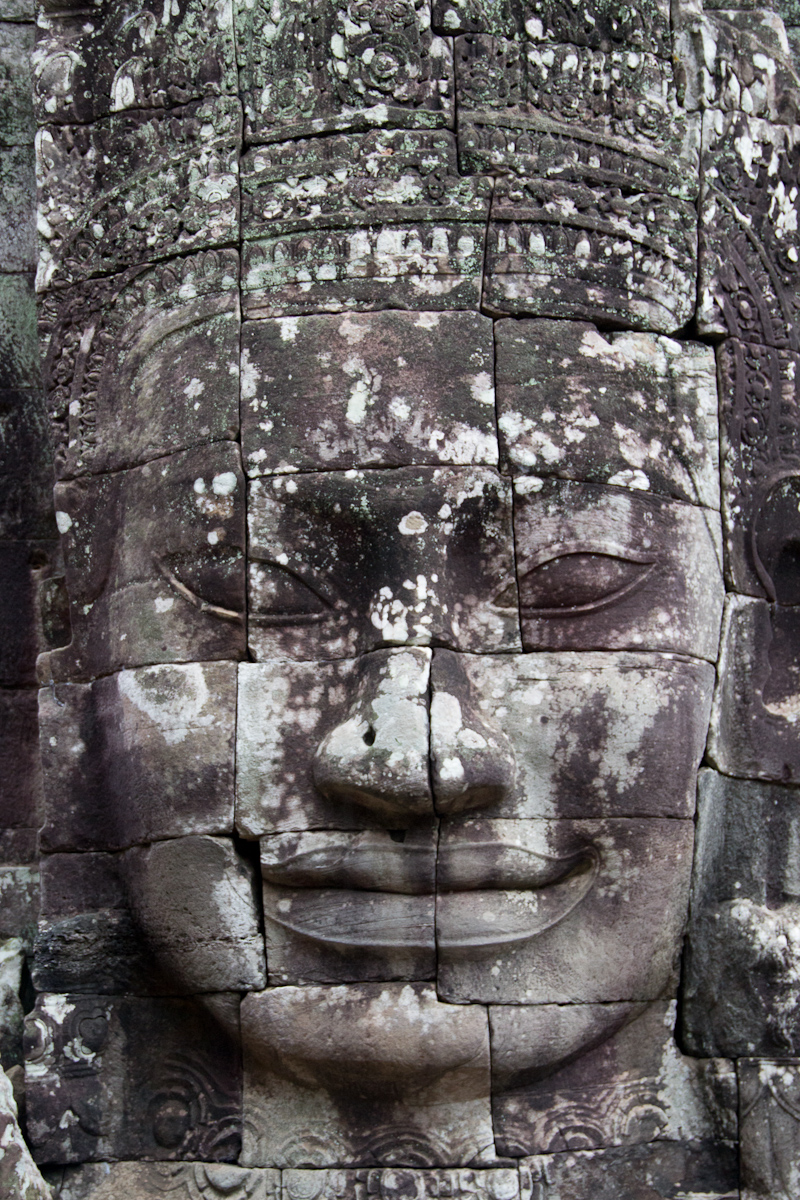 And here we were one of the first, too. The silence makes it even more special. Close by is the temple of Phimeanakas, with a pyramid in the middle and next to that the Royal Palace with a lot of elephants depicted in and cut in the rocks.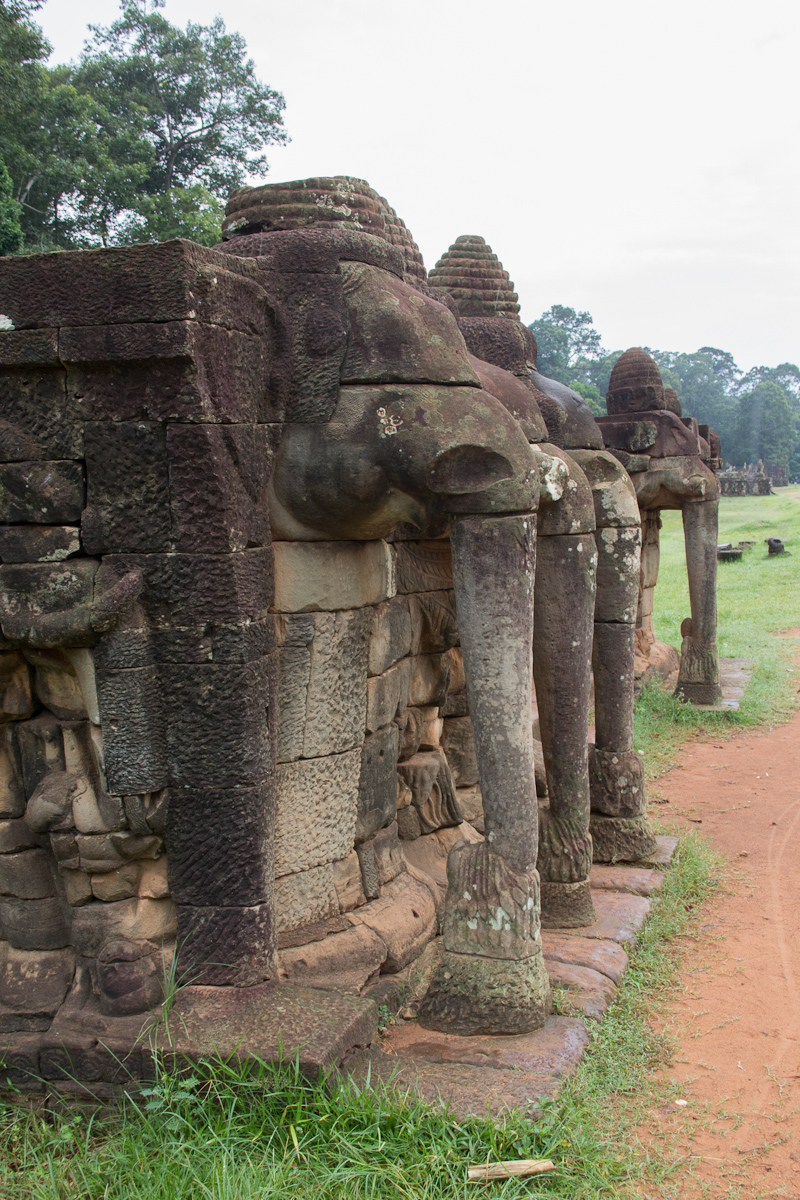 After breakfast we went to Ta Promo. This is the temple in the jungle, overgrown by giant roots! Beautiful!! Several films have been recorded here, like Tomb Raider.. This temple is my favorite, followed by the Bayont Temple and then Angkor Wat.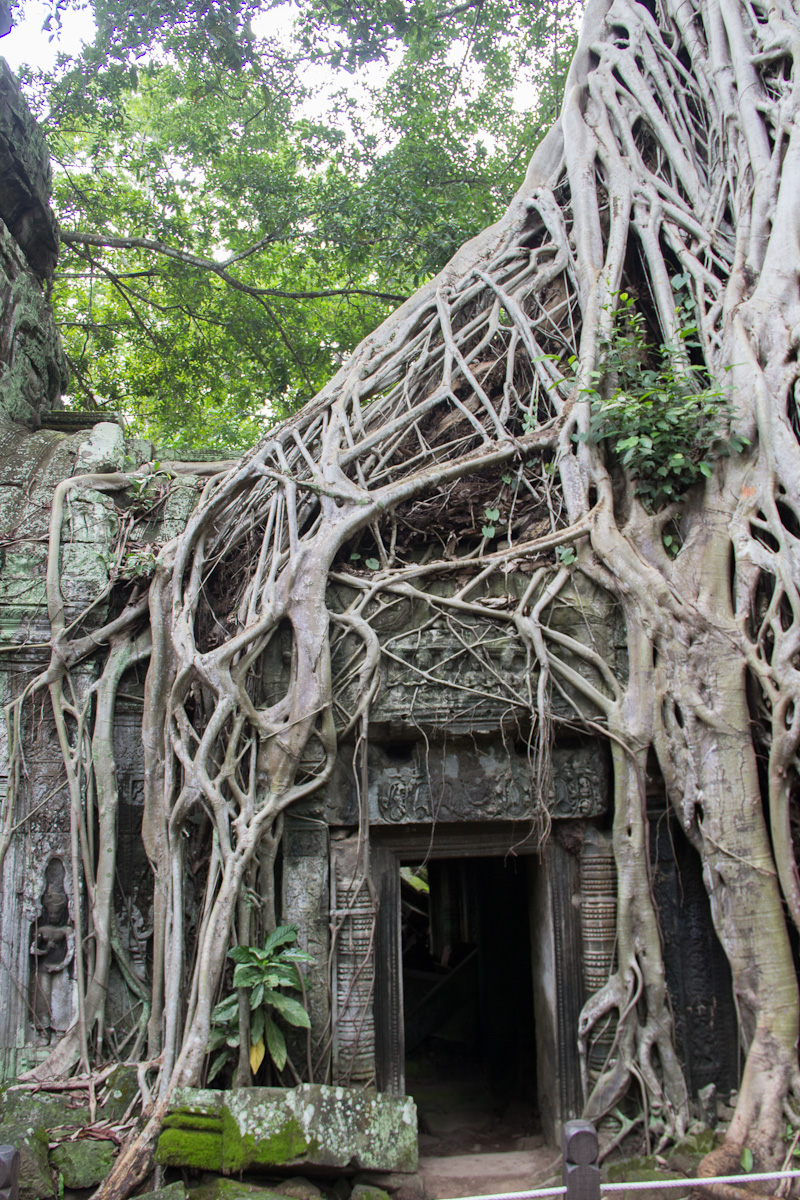 Finally, one more time back to Angkor Wat. We found the monk school which is located right next to Angkor Wat (a bit hidden, so there are almost no tourists). These people are so special with their bare heads and their orange robes. There was traditional music and singing. We looked around, enjoyed it and returned.
After that we sat on the wall in front of the Angkor Wat Temple for a while, when a group of Cambodians walked by, waving and smiling happily. They also took a seat on the wall somewhat further and kept looking and smiling. When we stood up, it was loudly made clear that they wanted to take a photo. No English of course, but the gestures made it clear. An applause sounded when we sat on the wall again and yes, a Cambodian came running towards us with his camera and tripod. Soon we were surrounded by the group and took a happy picture! We were still astonished, they were especially happy! Only after a short photo shoot, we could continue on, haha..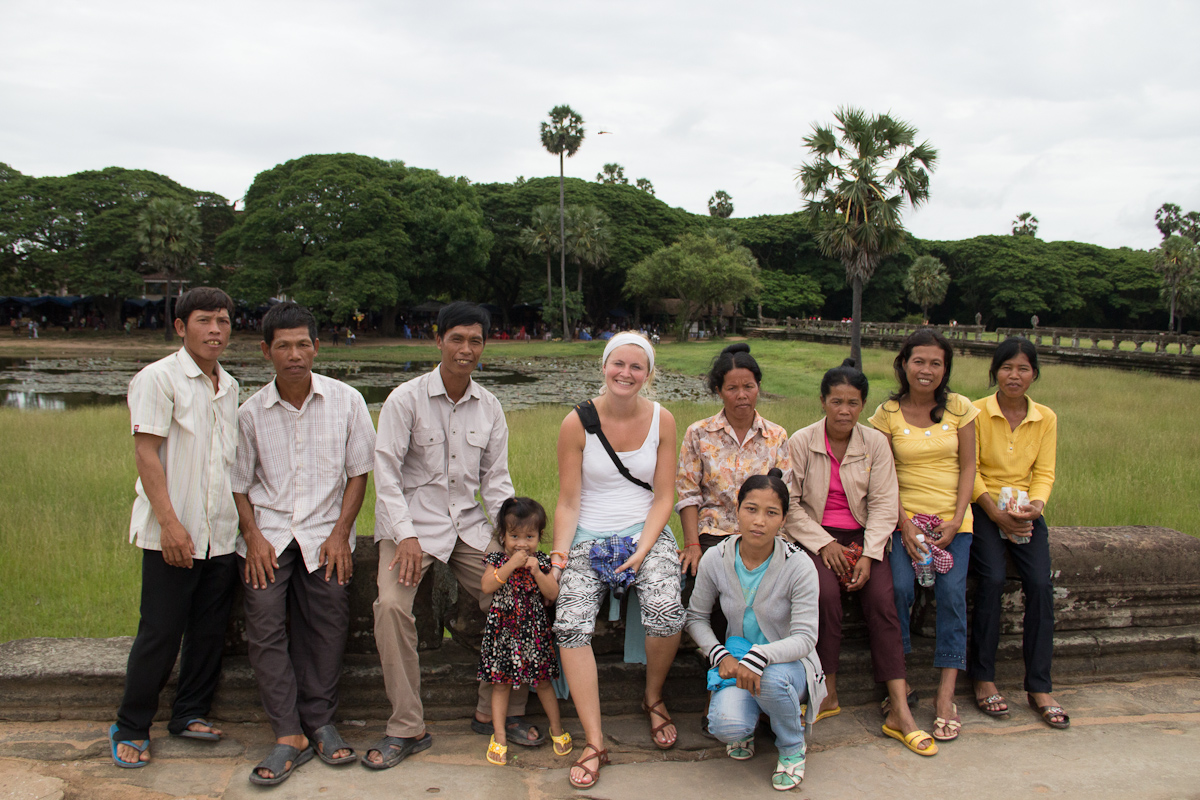 The complex is so big that you can spend days there, but I consciously chose a day ticket and am satisfied with the result..
What a wonderful piece of history!
The temples, the endless reliefs, the statues, the heights, the meanings..
Amazing but especially admiring!
Because Ankor Wat is such a photo walhalla, I tried to capture Ankor Wat in another non-standard way. Curious about how Ankor Wat can look like it? Next week, my photo blog – Angkor Wat – seeing it from another side (the non-standard pictures).
Next day, I wanted to visit another school in Cambodia. At the reception I found out that there was a school in the street at a 10-minute walk. Soon I saw a college or university. It was a quiet terrain, I looked into a room and walked around. The further I went, the louder I heard young children's voices.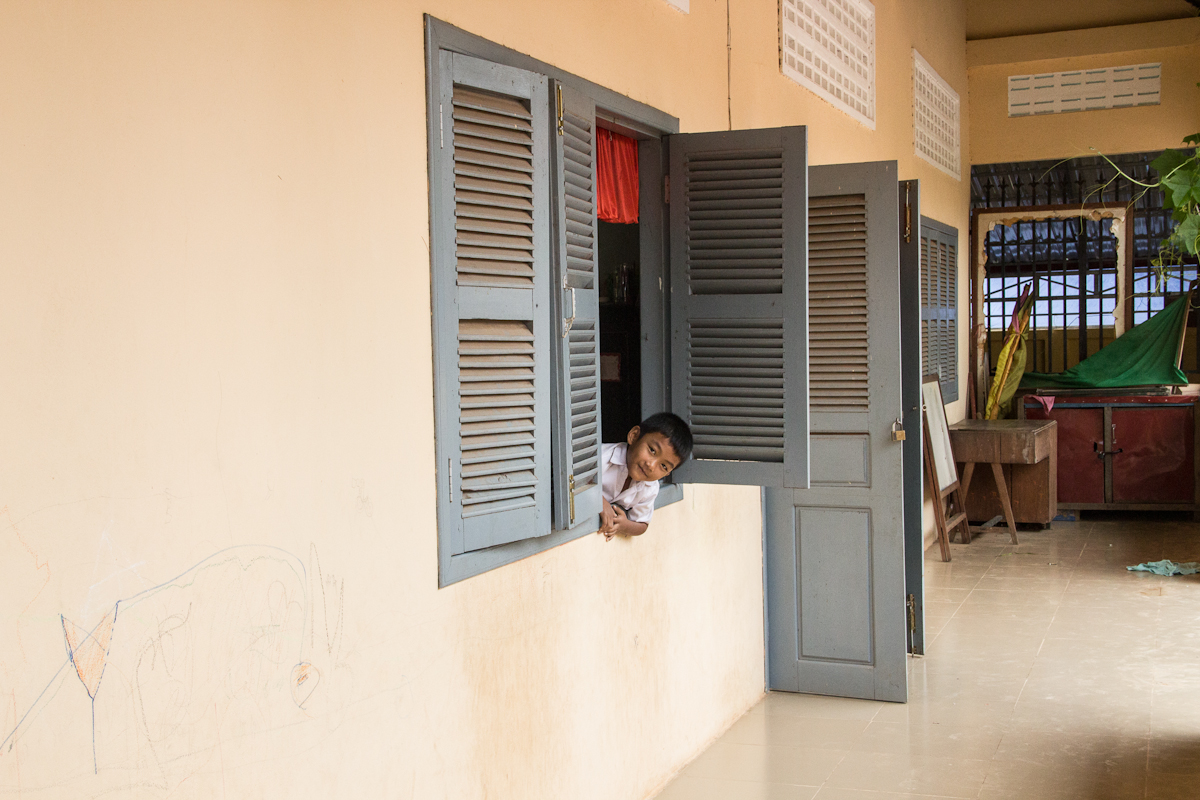 Behind the grounds was a school that I could enter via a street. When I arrived I asked for a teacher and a very kind female teacher spoke some English and gave me a tour. It turned out to be a kindergarten with six classes (two first classes – 3 years old, two second classes – 4 years old and two third classes – 5 years old). The 3 year olds wear pink vests over their school uniform (white blouses and dark blue skirts / pants), sit on pink chairs and have pink reports etc. With the 4 year olds this is yellow and at the age of 5 the color is blue.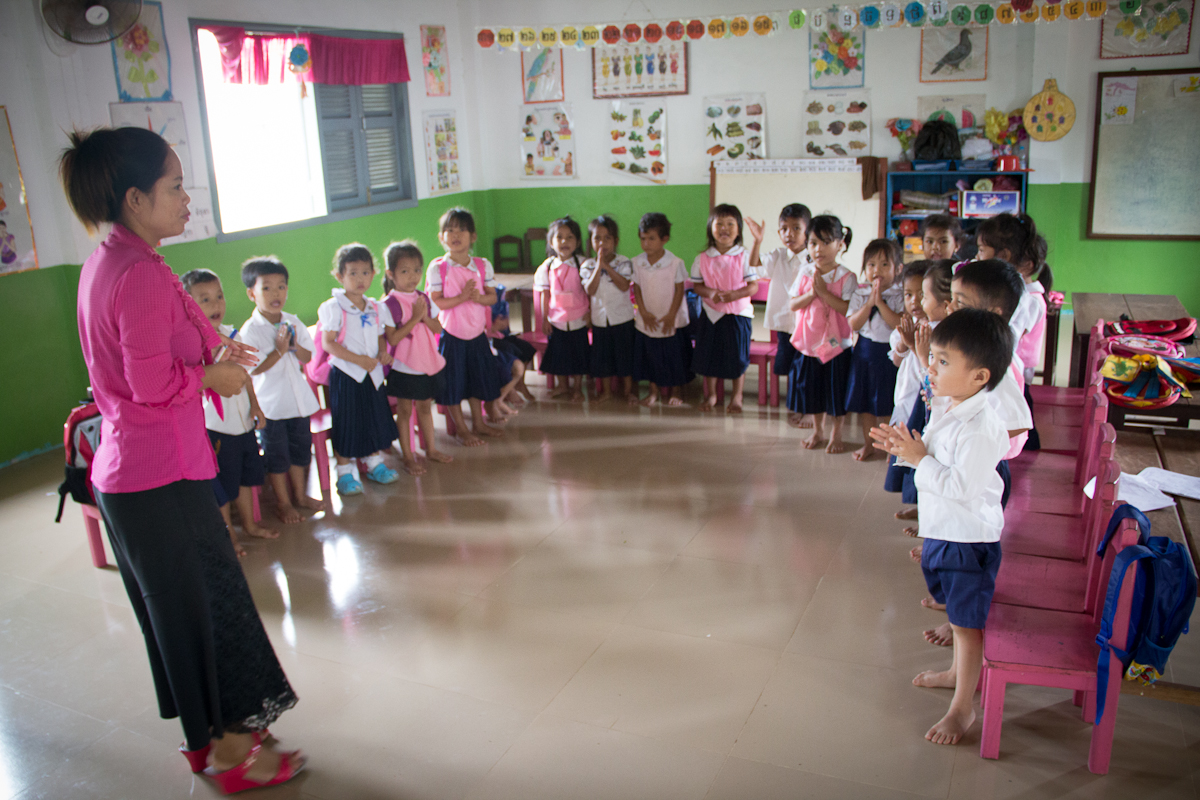 Classes of 35-45 children and so excited and happy about me being there! Great! Waving, 'how are you?', hello, etc etc. And of course also the shy children that just look and sometimes smile lovely. The children sung and danced for me and greeted me in chorus. Most children had just had a break and were sitting in a circle, one class was at work and another class did outdoor games. I enjoyed it!! I also met the school director (a woman) and we talked for a while.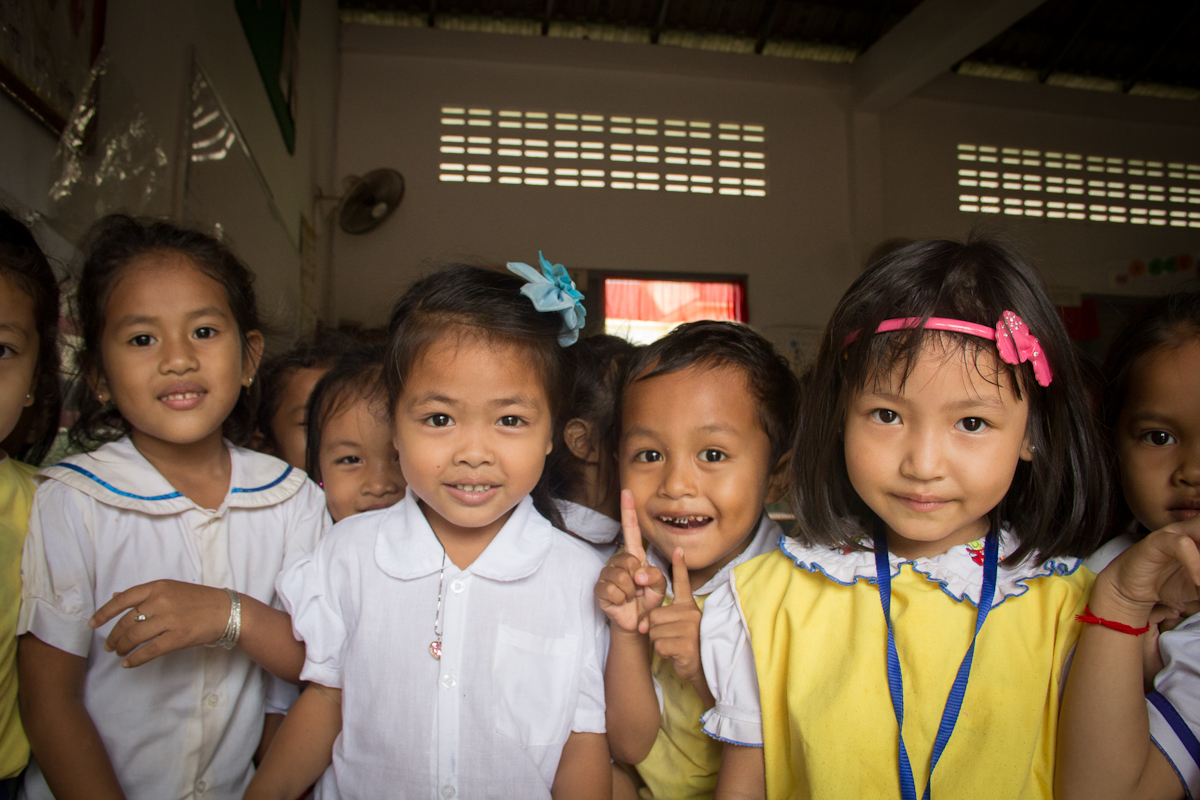 The children go to school from Monday to Friday, from 7.30 a.m. till 11 a.m. It was a beautiful new building and inside it looked good. Colorful, which contributes to the children's eagerness to learn (I totally agree) and the same kind of posters etc. on the wall (alphabet, days of the week, calendar, numbers, rules). And of course, a picture of the president of Cambodia. Outside, some children who had had little accidents were walking around without clothes because these were drying. Parents picked up their children with scooters, nice to see!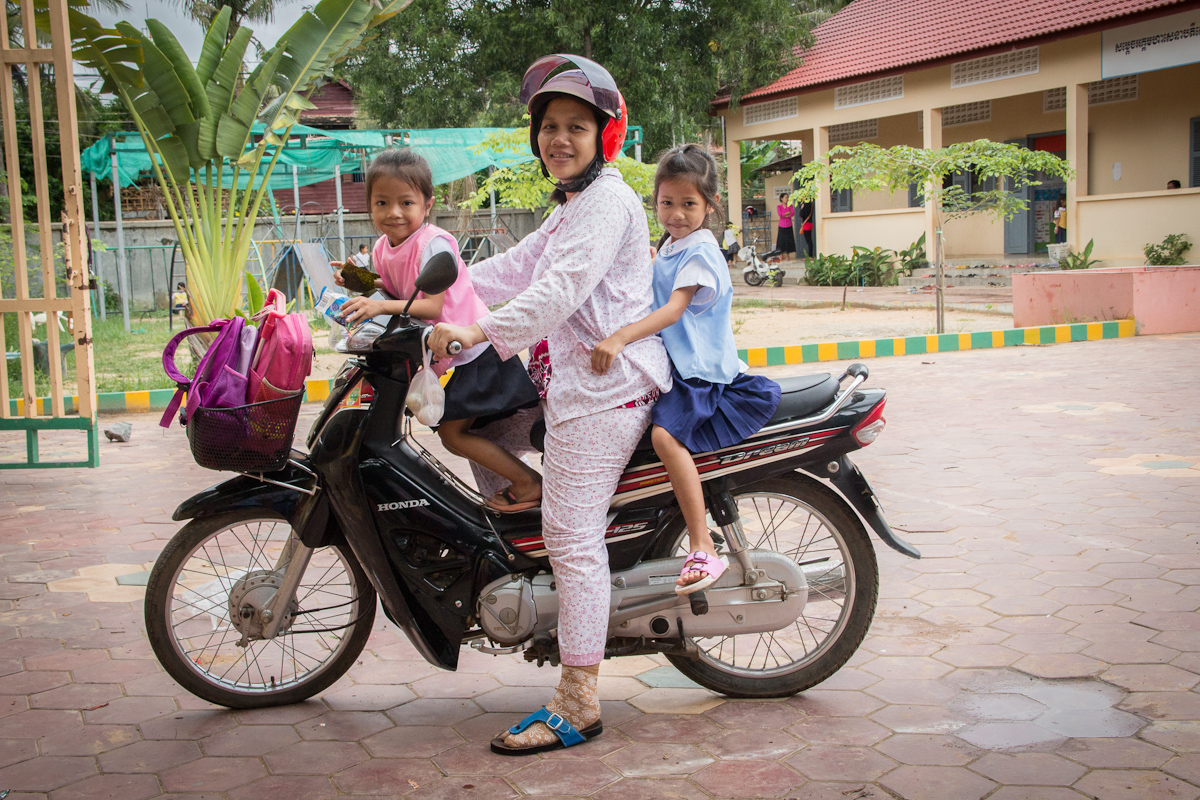 She also told me that not every child in Cambodia goes to school. But she couldn't tell me why. It's for free. There is also a special school in Siem Reap for people with disabilities. Unfortunately, I had no time to visit them and she could not write the address down for me, otherwise I would have liked to go there. So glad I visited this school, a starred moment of joy!
That afternoon I went to a restaurant for a cooking class. We started with a walk at the market to buy all fresh products, receiving explanations. Very interesting! I chose to make spring rolls as a starter and as a main course a Cambodian curry and a banana dessert. Very nice to do and it tasted delicious! It was a funny look with a red cook's hat and red apron. The dessert was much too sweet for me, but the rest I will definitely make myself again at home. We took the recipes with us.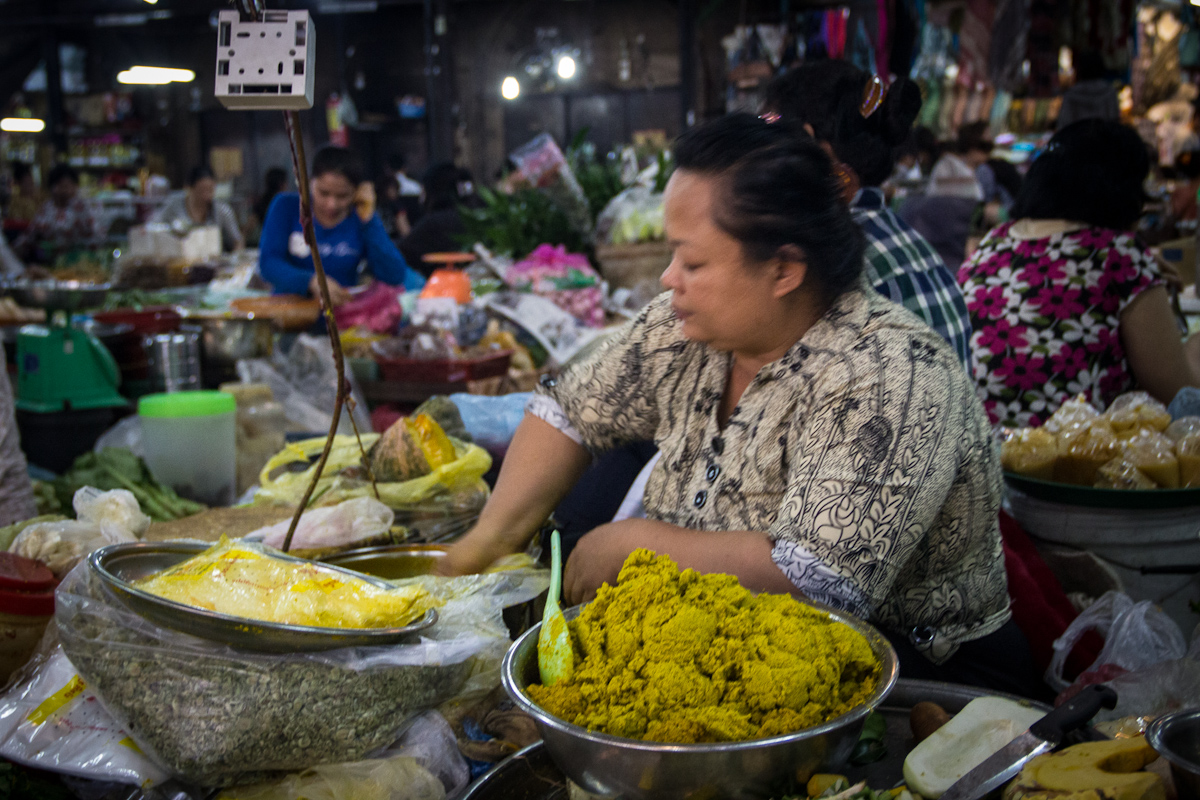 As the icing on the cake I did a relaxed oil massage of an hour, great! I had quite some pain in my back in the last days. After, it felt good and relaxed again! An end in style in special Cambodia!
---
A strong woman knows she has strength enough for the journey, but a woman of strength knows it is in the journey where she wil become strong.
---
And so, looking back on my first trip alone:
Travelling is meeting people. You learn to find peace, even in turbulent situations. Travelling is detaching yourself from expectations. And observing how other cultures deal with nature, people and animals. You learn to feel safe so far away from everything you know and what is safe for you. You learn to gain confidence in your choices and in who you are. Backpacking alone is above all ultimate freedom!! I enjoyed it very much!!