Having a garden is high on my wish list when it comes to living. A few years ago I went from living in a spacious house to a cozy ground floor apartment with a decent garden. Instead of an additional bedroom, I chose a garden. Below I'll explain why.
I was lucky that the previous tenant had designed and maintained the garden so well. Different flowers in every season and blooming bushes/trees. Ideal!! Below you'll find 5 reasons why I enjoy my garden so much (in random order).
Cozy sitting area
As soon as the weather gets nice, you'll see me sitting (or lying) on the lounge set. With a cup of tea and breakfast, with a book, with friends or family, you name it. It's a lovely place, which you can enjoy from early spring on. First with a jacket and a blanket and later through the season in bikini. And when the clematis blooms it's extra beautiful!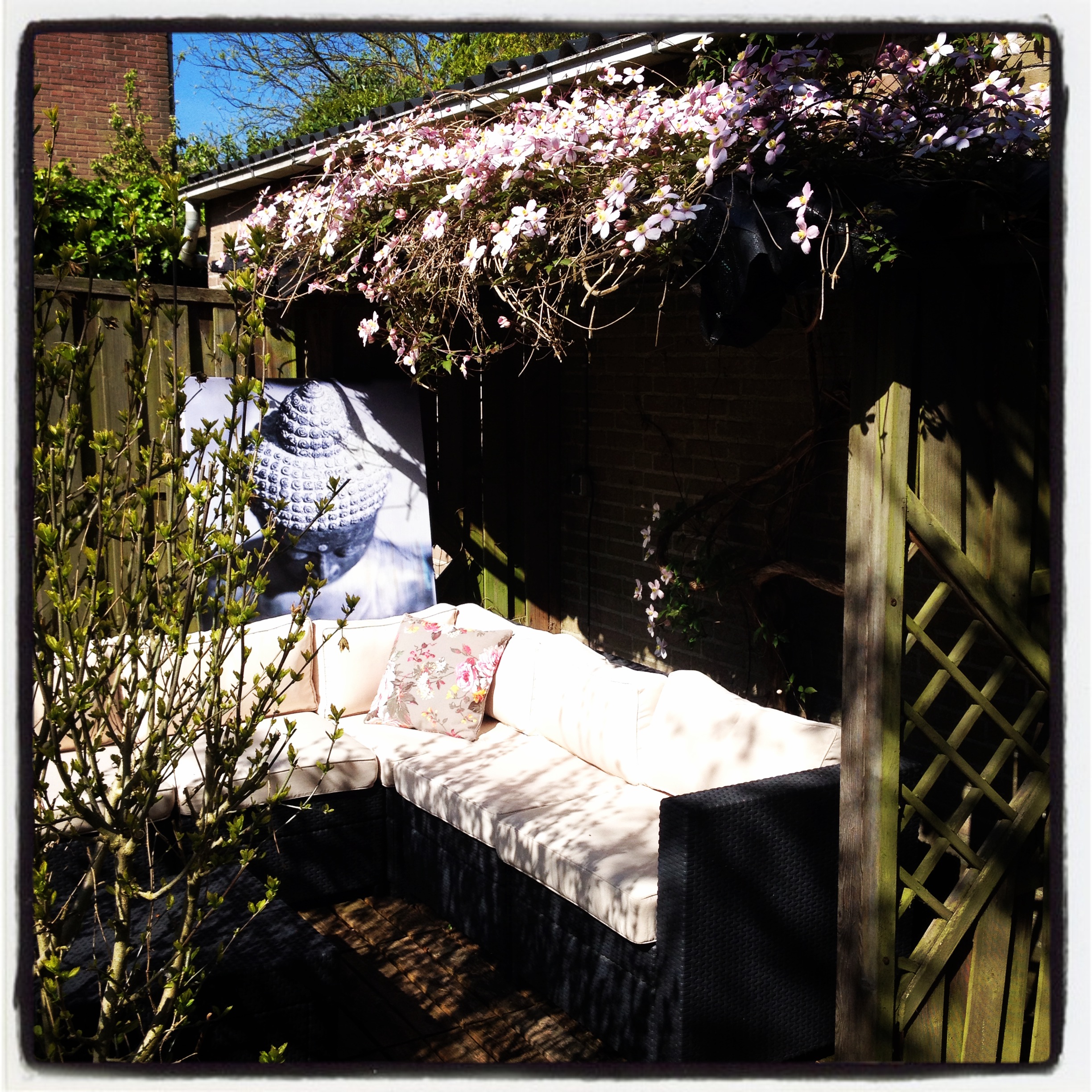 Yoga in the garden
During summer I roll out my yoga mat outdoors. Enjoying the fresh morning breeze, with all the bird sounds in the background. I always have to grin when I do the reverse attitude with my legs high in the sky. Imagine a sleepy neighbor, stepping into his garden and seeing two feet sticking out above the fence. The idea alone makes me grin.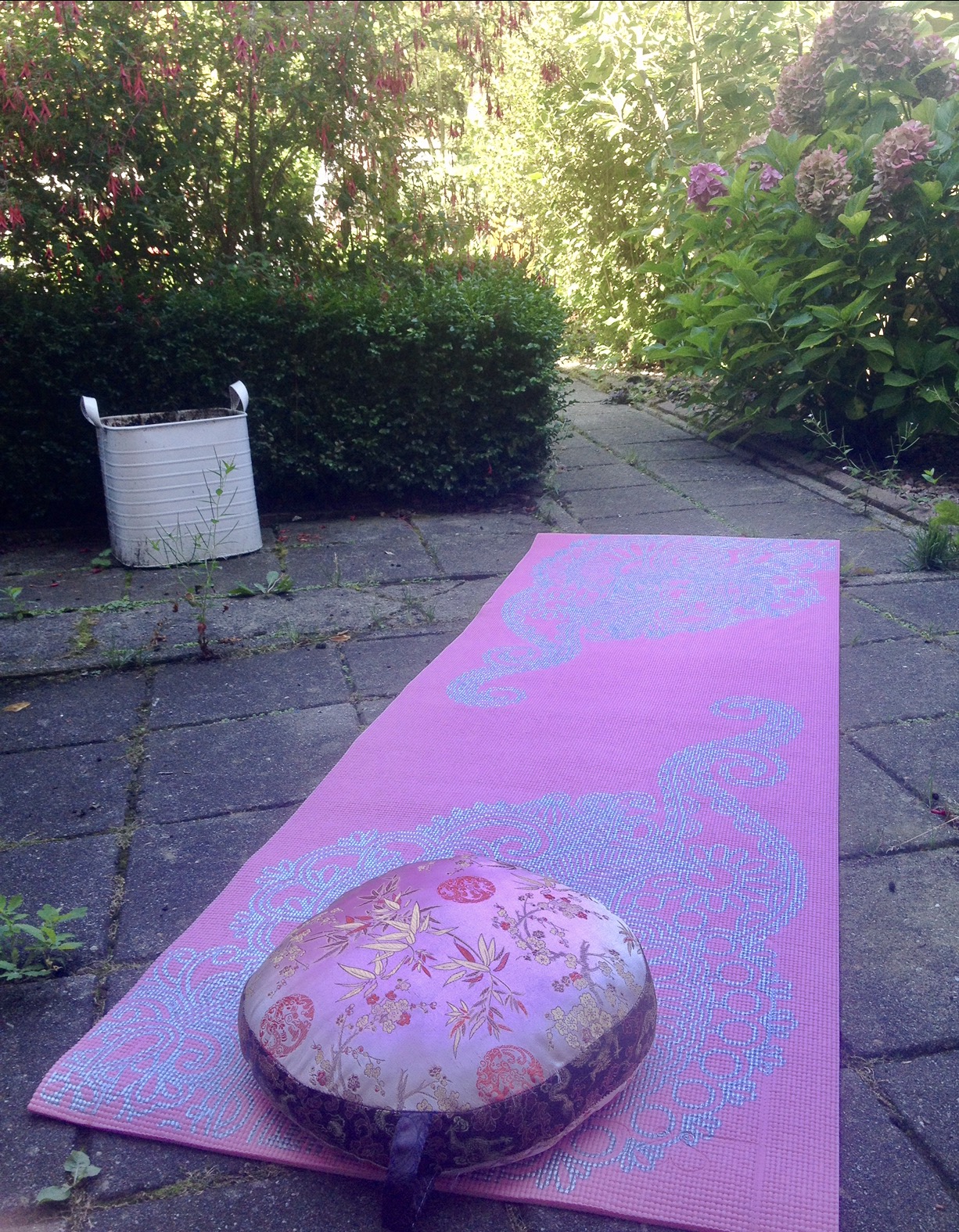 Eating outside
Eating outside is always nice! I don't think this needs any further explanation. I'm really happy with my table of natural stone and chairs that you can put into a relaxed setting after a delicious meal. Between the flowers and al the green.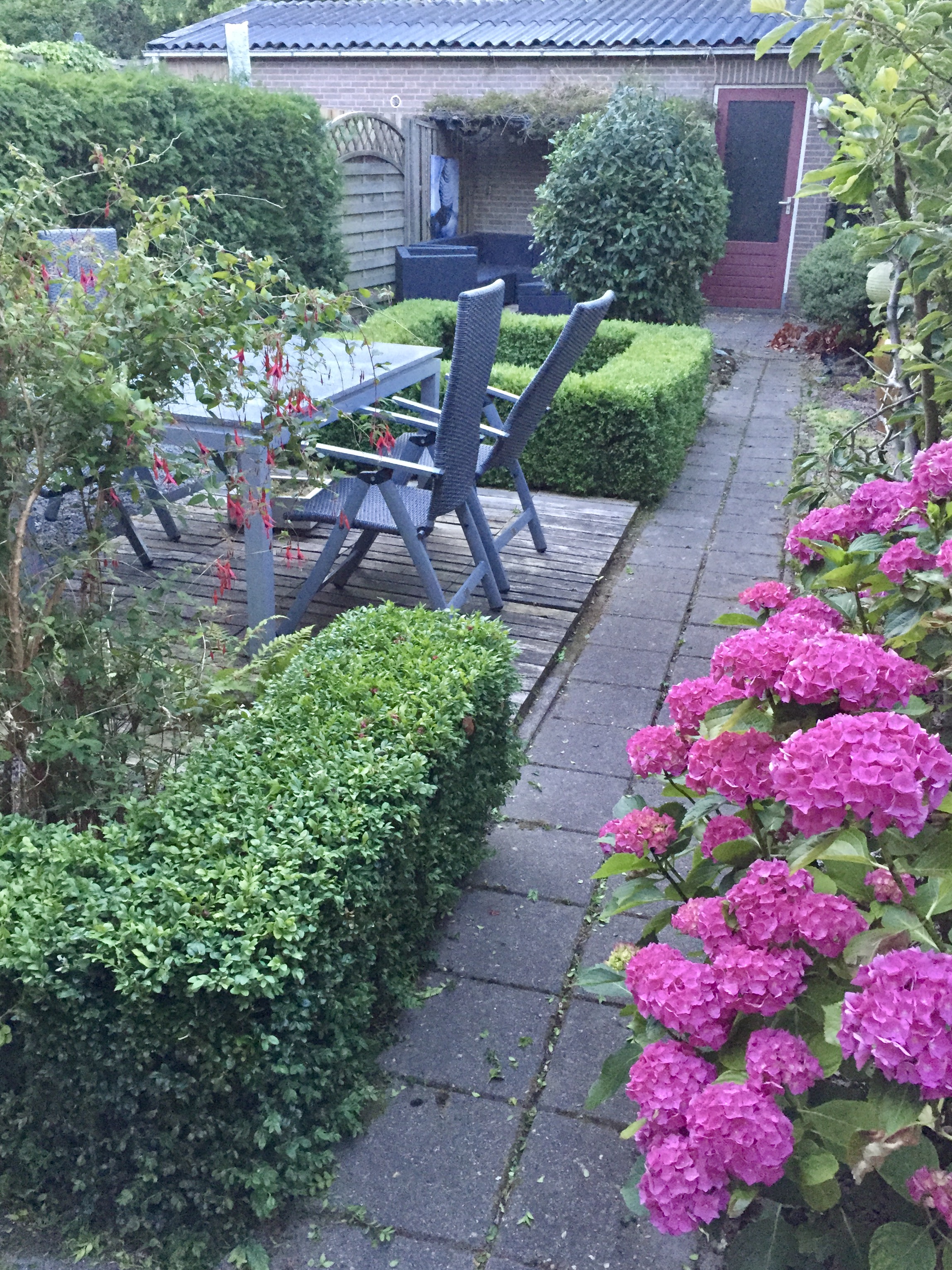 Relaxing in the hammock
This is standard during summer. It's nice to rest in here after a day work. I like to read or listen to music while slowly rocking back and forward. But sometimes I also just listening to the birds, watch the sky and enjoy the scented and blooming rosebush next to me.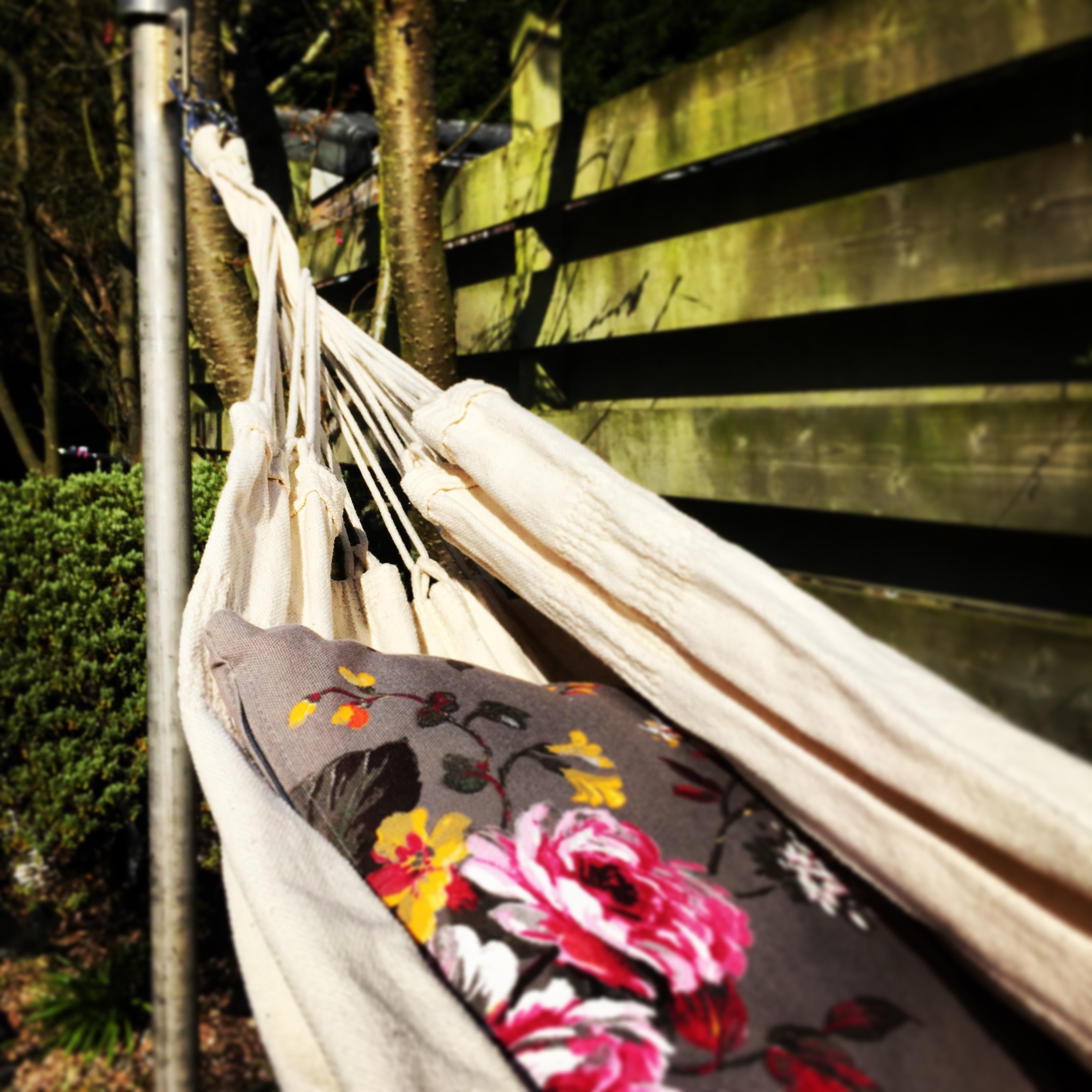 Sun tanning
Lying down on my sunbed and enjoy the sun, nothing more to add. Not long, just an hour. And because my garden is pretty sheltered, it really feels like a private place. Super nice!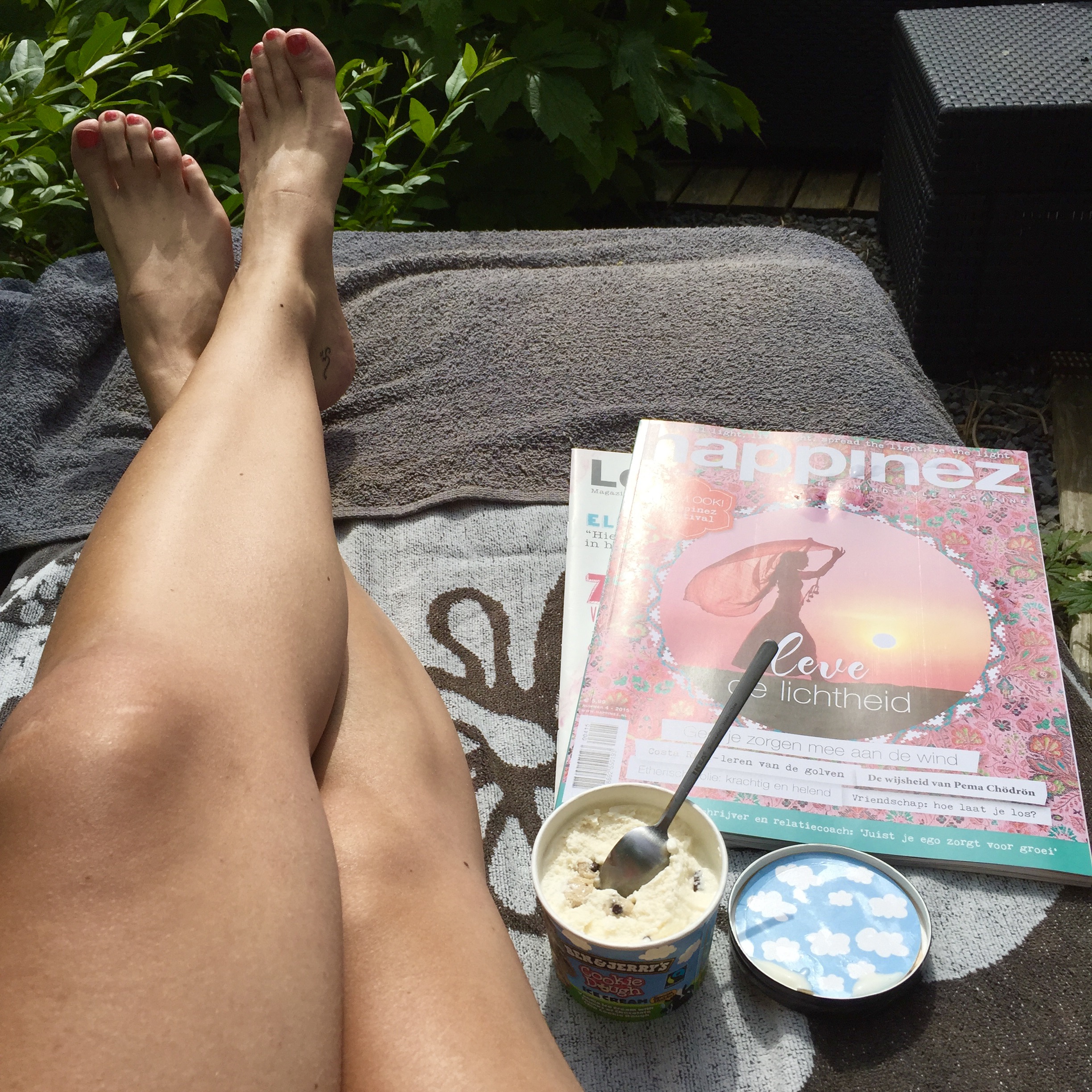 My garden has everything that makes me enjoy being outside. I feel really lucky with this luxury! That's probably why I enjoy camping so much. Next week you'll read more about camping…